LADY VICTORIA
$67,000 - $75,000 / WEEK
---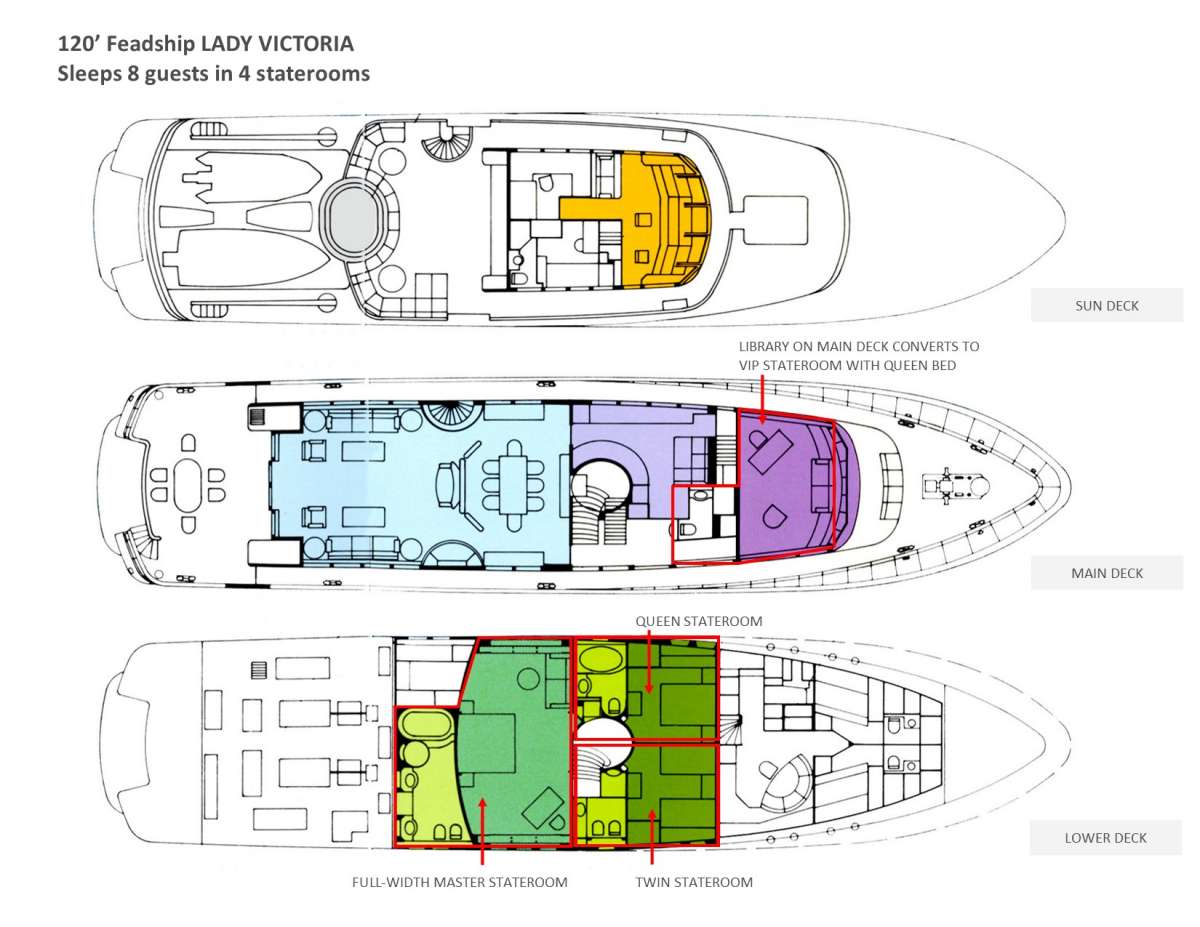 Boat Details
| | |
| --- | --- |
| Cabins: | 4 |
| Queen: | 2 |
| Single Cabins: | 1 |
| Showers: | 4 |
| Wash Basins: | - |
| Heads: | 4 |
| Electric Heads: | - |
Pick Up Locations
| | |
| --- | --- |
| Pref. Pick-up: | - |
| Other Pick-up: | - |
---
Details
| | |
| --- | --- |
| Refit: | 2017 |
| Helipad: | No |
| Jacuzzi: | Yes |
| A/C: | Full |
Engine Details
2 MAN engines 738 HP each Northern Light generators 92 KW each
Fuel Consumption:
25-40
Cruising Speed:
11
Max Speed:
13US Gall/Hr
Locations
| | |
| --- | --- |
| Winter Area: | Bahamas, Florida |
| Summer Area: | New England |
---
Amenities
Salon Tv/VCR:
Yes
Salon Stereo:
-
Sat Tv:
Wi-Fi throughout while at dock or marina
Cellular Internet while underway 15 miles from shore
Computer, printer, scanner
# of Videos:
-
# DVDs/Movies:
-
# CD's:
-
Camcorder:
-
Books:
-
Board Games:
-
Sun Awning:
-
Deck Shower:
-
Bimini:
-
Water Maker:
-
| | |
| --- | --- |
| Special Diets: | Yes |
| Kosher: | Inq |
| BBQ: | - |
| # Dine In: | - |
| Minimum Age: | - |
| Generator: | - |
| Inverter: | - |
| Voltages: | - |
| Water Maker: | - |
| Water Cap: | - |
| Ice Maker: | - |
| Sailing Instructions: | - |
| Internet Access: | - |
| | |
| --- | --- |
| Gay Charters: | Yes |
| Nude: | No |
| Hairdryers: | - |
| # Port Hatches: | - |
| Guests Smokes: | - |
| Crew Smokes: | No |
| Pets Aboard: | No |
| Pet Type: | - |
| Guest Pets: | - |
| Children Ok: | - |
| Hammock: | - |
| Windscoops: | - |
---
Water Sports
| | |
| --- | --- |
| Dinghy size: | - |
| Dinghy hp: | - |
| Dinghy # pax: | - |
| Water Skis Adult: | Yes |
| Water Skis Kids: | - |
| Jet Skis: | No |
| Wave Runners: | No |
| Kneeboard: | Yes |
| Windsurfer: | - |
| Snorkel Gear: | Yes |
| Tube: | - |
| | |
| --- | --- |
| Scurfer: | - |
| Wake Board: | Yes |
| Kayaks 1 Pax: | - |
| Kayaks (2 Pax): | 2 |
| Floating Mats: | - |
| Swim Platform: | - |
| Boarding Ladder (Loc/Type): | - |
| Sailing Dinghy: | - |
| Beach Games: | - |
| Fishing Gear: | Yes |
| Gear Type: | - |
| Rods: | - |
Captain Timothy Laughridge
A "captain's captain," Timothy has more than three decades of professional experience and holds a U.S. Coast Guard 1600/3000 gross tons Master's license. Timothy has logged more than 300,000 sea miles, done multiple transatlantic and transpacific crossings, and completed two global circumnavigations. He has captained numerous large vessels—both sail and power—competed in prestigious regattas and offshore races throughout the world, and overseen the construction or major refit of a variety of yachts. Additional accomplishments include being one of the founders of the high-profile Bucket Regattas in Newport (originally in Nantucket) and St. Barth's. When not in command of LADY VICTORIA, you may cross his path around the globe participating in the many Superyacht regattas. Hailing from New England, Timothy is very familiar with the cruising grounds spanning from Nova Scotia to as far south as Key West. He has had many successful charters over the years in Florida, the Caribbean, and the Bahamas. During the 5+ years that Timothy has been working with LADY VICTORIA's owner, he has garnered a reputation for keeping his boats in impeccable condition both in the guest areas and below deck. Timothy was instrumental in sourcing the newer larger "LADY VICTORIA " and overseeing the new upgrades. Captain Timothy brings together an experienced, professional, compatible, and fun-loving crew, and with Timothy's creative and energetic flair for entertaining, the crew of LADY VICTORIA aims to exceed the expectations of the most demanding clients.

Chef Gaylinn Fast
Chef Gaylinn Fast has been a chef on both private and charter yachts for the past five years, including M/Y CHERISH II and M/Y GO. Gaylinn's previous career was in the hospitality industry: she owned a successful boutique bed and breakfast for over 10 years in Litchfield County, Connecticut, as well as an event and catering company where her clients included Chanel, Ivanka Trump, Martha Stewart, Museum of Modern Art, Victoria's Secret, and Fine Cooking. Gaylinn has worked for and with many celebrity chefs, was a chef and food stylist for Better Homes & Gardens, and is a graduate of PLANTLAB Culinary. Gaylinn has traveled extensively and creates dishes that reflect those experiences. She is especially fond of Mediterranean and garden-to-table cuisine, and her specialties on LADY VICTORIA include seasonal freshly pressed juices, farm-to-table, plant-based, raw, gluten-free, scratch foods, hors d'oeuvres, and baked goods.

Stewardess Michelle Lee
Born on the beautiful island of Oahu in Hawaii, Michelle has a natural passion for the sea. She has worked in the yachting industry working as chief stewardess, cook, and deckhand. She is trained in Silver Service, cocktails/bartending, and has experience in provisioning. Taking care of people is second nature to Michelle given her background as a nurse's assistant. She has a great personality, is a hard worker and enjoys the new experiences and challenges of the yachting world.

Engineer Pearson Adams
Pearson started his yachting career in 2006 cruising the southern Caribbean on a sailing yacht eventually moving to power yachts as a deckhand. Raised in Oklahoma with a love for engineering and mechanics, he found that there was a need for both in yachting. In his career, he has worked throughout the Americas, Caribbean, and sailed the Galapagos Islands. His interests include scuba diving, fishing, and golfing.

First Mate Joe Jedynak
Joe grew up in lake-filled Minnesota building wooden paddle boards and sailing his beach catamaran. After working on a very busy charter boat in the Bahamas for several months, he decided to make yachting his career. Experienced on both motor and sailing yachts, Joe takes pleasure in helping curious and adventurous guests take their first steps toward fully enjoying the many water toys and activities offered on LADY VICTORIA.


(15 December -30 April)
Bahamas, Florida
(1 May - 14 December)
New England
| | | | | | | | | | | | | | | | | | | | | | | | | | | | | | | | |
| --- | --- | --- | --- | --- | --- | --- | --- | --- | --- | --- | --- | --- | --- | --- | --- | --- | --- | --- | --- | --- | --- | --- | --- | --- | --- | --- | --- | --- | --- | --- | --- |
| Aug 2018 | 1 | 2 | 3 | 4 | 5 | 6 | 7 | 8 | 9 | 10 | 11 | 12 | 13 | 14 | 15 | 16 | 17 | 18 | 19 | 20 | 21 | 22 | 23 | 24 | 25 | 26 | 27 | 28 | 29 | 30 | 31 |
| Sep 2018 | 1 | 2 | 3 | 4 | 5 | 6 | 7 | 8 | 9 | 10 | 11 | 12 | 13 | 14 | 15 | 16 | 17 | 18 | 19 | 20 | 21 | 22 | 23 | 24 | 25 | 26 | 27 | 28 | 29 | 30 | |
| Oct 2018 | 1 | 2 | 3 | 4 | 5 | 6 | 7 | 8 | 9 | 10 | 11 | 12 | 13 | 14 | 15 | 16 | 17 | 18 | 19 | 20 | 21 | 22 | 23 | 24 | 25 | 26 | 27 | 28 | 29 | 30 | 31 |
| Nov 2018 | 1 | 2 | 3 | 4 | 5 | 6 | 7 | 8 | 9 | 10 | 11 | 12 | 13 | 14 | 15 | 16 | 17 | 18 | 19 | 20 | 21 | 22 | 23 | 24 | 25 | 26 | 27 | 28 | 29 | 30 | |
| Dec 2018 | 1 | 2 | 3 | 4 | 5 | 6 | 7 | 8 | 9 | 10 | 11 | 12 | 13 | 14 | 15 | 16 | 17 | 18 | 19 | 20 | 21 | 22 | 23 | 24 | 25 | 26 | 27 | 28 | 29 | 30 | 31 |
| Jan 2019 | 1 | 2 | 3 | 4 | 5 | 6 | 7 | 8 | 9 | 10 | 11 | 12 | 13 | 14 | 15 | 16 | 17 | 18 | 19 | 20 | 21 | 22 | 23 | 24 | 25 | 26 | 27 | 28 | 29 | 30 | 31 |
| Feb 2019 | 1 | 2 | 3 | 4 | 5 | 6 | 7 | 8 | 9 | 10 | 11 | 12 | 13 | 14 | 15 | 16 | 17 | 18 | 19 | 20 | 21 | 22 | 23 | 24 | 25 | 26 | 27 | 28 | | | |
| Mar 2019 | 1 | 2 | 3 | 4 | 5 | 6 | 7 | 8 | 9 | 10 | 11 | 12 | 13 | 14 | 15 | 16 | 17 | 18 | 19 | 20 | 21 | 22 | 23 | 24 | 25 | 26 | 27 | 28 | 29 | 30 | 31 |
| Apr 2019 | 1 | 2 | 3 | 4 | 5 | 6 | 7 | 8 | 9 | 10 | 11 | 12 | 13 | 14 | 15 | 16 | 17 | 18 | 19 | 20 | 21 | 22 | 23 | 24 | 25 | 26 | 27 | 28 | 29 | 30 | |
| May 2019 | 1 | 2 | 3 | 4 | 5 | 6 | 7 | 8 | 9 | 10 | 11 | 12 | 13 | 14 | 15 | 16 | 17 | 18 | 19 | 20 | 21 | 22 | 23 | 24 | 25 | 26 | 27 | 28 | 29 | 30 | 31 |
| Jun 2019 | 1 | 2 | 3 | 4 | 5 | 6 | 7 | 8 | 9 | 10 | 11 | 12 | 13 | 14 | 15 | 16 | 17 | 18 | 19 | 20 | 21 | 22 | 23 | 24 | 25 | 26 | 27 | 28 | 29 | 30 | |
| Jul 2019 | 1 | 2 | 3 | 4 | 5 | 6 | 7 | 8 | 9 | 10 | 11 | 12 | 13 | 14 | 15 | 16 | 17 | 18 | 19 | 20 | 21 | 22 | 23 | 24 | 25 | 26 | 27 | 28 | 29 | 30 | 31 |
---