CLAIRE
$139,500 - $150,000 / WEEK
---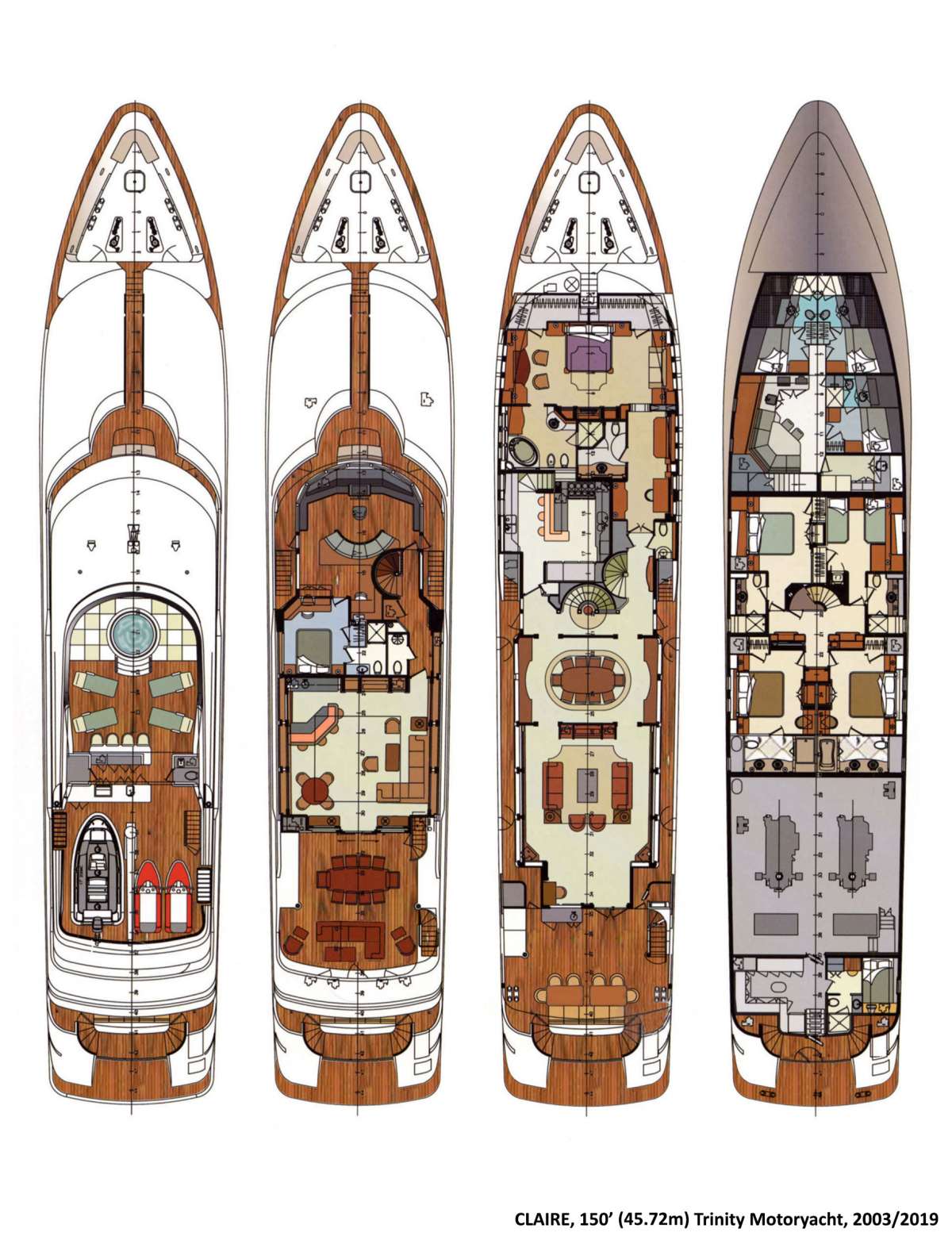 Boat Details
| | |
| --- | --- |
| Cabins: | 5 |
| Queen: | - |
| Single Cabins: | 1 |
| Showers: | - |
| Wash Basins: | - |
| Heads: | - |
| Electric Heads: | - |
Pick Up Locations
| | |
| --- | --- |
| Pref. Pick-up: | - |
| Other Pick-up: | - |
---
Details
| | |
| --- | --- |
| Refit: | 2018 |
| Helipad: | No |
| Jacuzzi: | Yes |
| A/C: | Full |
Engine Details
Engines: (2) Caterpillar 3512B diesels @ 2,250hp each Generators: (2) 99 kW Kilpak
Fuel Consumption:
86
Cruising Speed:
18 knots
Max Speed:
21.5 knotsUS Gall/Hr
Locations
| | |
| --- | --- |
| Winter Area: | Bahamas, Florida |
| Summer Area: | Bahamas, Florida |
---
Amenities
Salon Tv/VCR:
-
Salon Stereo:
-
Sat Tv:
• Kaleidoscope A/V system on demand
• (4) 21" flat panel multi-system (Staterooms)
• (2) 42" Plasma multi-system (Main Salon, Sky Lounge)
• 32" Plasma multi-system (Master)
• (10) DV 353 Pioneer DVD players (All guest and common areas)
• SLV-ED 100 ME Sony multi-system (Master)
• 42" Flat screen TV (Main Deck, Bridge Deck Aft)
• 32" Flat screen TV (Sun Deck)
• I-Pod connection in all A.V.

• Fleet 77 SAT COM
• Panasonic telephone system
• Furuno SSB
• Furuno VHF
• Nokia cellular phone system
• Panasonic intercom
• Wireless Internet throughout 24/7
# of Videos:
-
# DVDs/Movies:
-
# CD's:
-
Camcorder:
-
Books:
-
Board Games:
-
Sun Awning:
-
Deck Shower:
-
Bimini:
-
Water Maker:
-
| | |
| --- | --- |
| Special Diets: | Inq |
| Kosher: | Inq |
| BBQ: | - |
| # Dine In: | - |
| Minimum Age: | - |
| Generator: | - |
| Inverter: | - |
| Voltages: | - |
| Water Maker: | - |
| Water Cap: | - |
| Ice Maker: | - |
| Sailing Instructions: | - |
| Internet Access: | - |
| | |
| --- | --- |
| Gay Charters: | Inq |
| Nude: | Inq |
| Hairdryers: | - |
| # Port Hatches: | - |
| Guests Smokes: | - |
| Crew Smokes: | Inq |
| Pets Aboard: | No |
| Pet Type: | - |
| Guest Pets: | - |
| Children Ok: | - |
| Hammock: | - |
| Windscoops: | - |
---
Water Sports
| | |
| --- | --- |
| Dinghy size: | - |
| Dinghy hp: | - |
| Dinghy # pax: | - |
| Water Skis Adult: | Yes |
| Water Skis Kids: | Yes |
| Jet Skis: | - |
| Wave Runners: | Yes |
| Kneeboard: | Yes |
| Windsurfer: | - |
| Snorkel Gear: | Yes |
| Tube: | Yes |
| | |
| --- | --- |
| Scurfer: | - |
| Wake Board: | Yes |
| Kayaks 1 Pax: | No |
| Kayaks (2 Pax): | Yes |
| Floating Mats: | Yes |
| Swim Platform: | - |
| Boarding Ladder (Loc/Type): | - |
| Sailing Dinghy: | - |
| Beach Games: | Yes |
| Fishing Gear: | Yes |
| Gear Type: | - |
| Rods: | - |
CLAIRE Crew Profiles

Captain Kevin Hart | United Kingdom
Kevin has been surrounded by the sea all his life having grown up on a small Island off the east coast of England and living on the east coast of Australia, plus the west coast of South Africa during his long career at sea. Kevin has worked at sea since he was 16 on an array of different types of ocean-going vessels from small cargo ships to cruise ships, working his way up from a deck cadet to a Master Mariner with over 25 years' experience in navigating the world's oceans. The past 11 years Kevin has been serving on various luxury yachts 45 to 60m in size, 10 years as captain cruising and chartering the Adriatic, Mediterranean and Caribbean Seas. Safety is always priority along with providing guests on CLAIRE with an unforgettable experience to take home with them. Captain Hart now resides in Cape Town, South Africa, with his beautiful wife, and two young children. He has a passion for traveling the globe and loves water sports, scuba diving, and snowboarding when and where he can.

Chef Elisa Eliot
Elisa has twenty years of global cuisine experience serving small and large groups. Off premise catering has trained her to adapt, be creative and think outside of the box. She is accustomed to the extended shifts great cuisine demands. She has extensive culinary experience with a 5 star review background and experience to provide exceptional quality and consistent culinary experience for guests and crew. She loves nothing more than making guests happy with her food. In addition to classic cuisine, she offers creative vegetarian dishes with a Mediterranean flair and garden-to-table menus. Her enthusiasm for culinary creations and dedication for refinement makes her a dynamic addition to any crew. She is a true bright spot for a vacation charter!

Chief Officer Jon DeYoung | USA
Growing up in Michigan surrounded by the Great Lakes, Jon has a natural love of the water.
So, after earning his BA from Michigan State University, he pursued a career in the yachting industry.
Having spent 20 years traveling the world he has worked on several 50-60 meter superyachts including
Enterprise V, Princess Marla, Altitude, Lady Linda, and My Seanna. Jon strives to deliver a great charter, leaving the guests with great memories for years to come. He enjoys college sports, reading, golf and spending time at his lake house in Michigan.

Chief Stewardess Cai Gaviola |Philippines
Born and raised in the Philippines, graduated Hotel and Restaurant Management, and start the career at Mandarin Oriental Hotel right after College. Cai has an extensive Hospitality and Customer background from 2 Five Star Hotels and Super Mega Yachts she worked for. Cai has served for Elite Guest and Royal Family for both Private and Charter, Passenger Yachts, Motor Yachts and Sailing Yachts. She has sailed the Mediterranean, East and West Coast of America, Canada, Mexico, Caribbean, and South East Asia.
Cai loves travelling, studying, meeting new people and getting new life's perspective. She is outgoing, cheerful, adventurous person and always ready to serve with big smile.

Chief Engineer Andre Caixeta | Brazilian American
Andre grew up in Brazil and served with the Brazilian Navy, plus Governors Body Guard before he moved to the United States 19 years ago. Living here in Florida, he started working on luxury yachts and various dive charter boats, after being invited on a diving trip to the Bahamas. Andre's passion for Scuba diving lead him to manage Dive Shops and work on Diving vessels, but over the past 7 years, he has concentrated more on Marine Engineering which lead him to gain Engineers Licence allowing him to work on large professionally run motor yachts. In his time away from yachts Andre spends time with his family in Florida and still enjoys his scuba diving with sharks, a little skydiving, hiking, plus cycling.

Second Stewardess Celia Corbin | USA
Originally from Serbia, Teodora grew up in Malta where the love of the sea and travel was instilled in her everyday life. Yachting seemed like a perfect career choice to pursue what she loves the most while serving guest at the highest level and to the best of her abilities. This is Teodora's fifth year in yachting and she is planning to keep the adventure in the future as she is truly a people person and enjoys providing high-end service. When at home Tea is a medical student and enjoys reading, writing, beach volley, traveling, and exploring new places.

Bosun Dario Ferguson | Bahamas
Coming from the chain of islands known for its sun, sand, and sea... yes, the Bahamas! That's where Dario grew up spending all his summers snorkeling, spearfishing, and exploring on a dingy. Dario always had a passion for the water and as a child would fantasize about the super yachts as they passed by. He said to himself that one day he would be the captain of a superyacht and is now on that journey. That's how he became a part of the yachting world and he loves every minute of it! With four years' experience at a five- star luxury resort and a friendly personality, he ensures a premium service aboard CLAIRE.

Deckhand Noel Neri | Philippines
Noel hails from the Philippines and has worked at sea for most of his life! He has worked all around the world on commercial ships before venturing into the world of superyachts. Back at home, he loves to fish and he has taken that love with him to the high seas. Despite his love for the water, Noel still manages to spend time doing what he loves in the Philippines - farming! He has a dragon fruit farm and breeds chickens. With an infectious smile and a warm personality, Noel is looking forward to helping you enjoy yourself to the fullest on the water.



(15 December -30 April)
Bahamas, Florida
(1 May - 14 December)
Bahamas, Florida
| | | | | | | | | | | | | | | | | | | | | | | | | | | | | | | | |
| --- | --- | --- | --- | --- | --- | --- | --- | --- | --- | --- | --- | --- | --- | --- | --- | --- | --- | --- | --- | --- | --- | --- | --- | --- | --- | --- | --- | --- | --- | --- | --- |
| Dec 2018 | 1 | 2 | 3 | 4 | 5 | 6 | 7 | 8 | 9 | 10 | 11 | 12 | 13 | 14 | 15 | 16 | 17 | 18 | 19 | 20 | 21 | 22 | 23 | 24 | 25 | 26 | 27 | 28 | 29 | 30 | 31 |
| Jan 2019 | 1 | 2 | 3 | 4 | 5 | 6 | 7 | 8 | 9 | 10 | 11 | 12 | 13 | 14 | 15 | 16 | 17 | 18 | 19 | 20 | 21 | 22 | 23 | 24 | 25 | 26 | 27 | 28 | 29 | 30 | 31 |
| Feb 2019 | 1 | 2 | 3 | 4 | 5 | 6 | 7 | 8 | 9 | 10 | 11 | 12 | 13 | 14 | 15 | 16 | 17 | 18 | 19 | 20 | 21 | 22 | 23 | 24 | 25 | 26 | 27 | 28 | | | |
| Mar 2019 | 1 | 2 | 3 | 4 | 5 | 6 | 7 | 8 | 9 | 10 | 11 | 12 | 13 | 14 | 15 | 16 | 17 | 18 | 19 | 20 | 21 | 22 | 23 | 24 | 25 | 26 | 27 | 28 | 29 | 30 | 31 |
| Apr 2019 | 1 | 2 | 3 | 4 | 5 | 6 | 7 | 8 | 9 | 10 | 11 | 12 | 13 | 14 | 15 | 16 | 17 | 18 | 19 | 20 | 21 | 22 | 23 | 24 | 25 | 26 | 27 | 28 | 29 | 30 | |
| May 2019 | 1 | 2 | 3 | 4 | 5 | 6 | 7 | 8 | 9 | 10 | 11 | 12 | 13 | 14 | 15 | 16 | 17 | 18 | 19 | 20 | 21 | 22 | 23 | 24 | 25 | 26 | 27 | 28 | 29 | 30 | 31 |
| Jun 2019 | 1 | 2 | 3 | 4 | 5 | 6 | 7 | 8 | 9 | 10 | 11 | 12 | 13 | 14 | 15 | 16 | 17 | 18 | 19 | 20 | 21 | 22 | 23 | 24 | 25 | 26 | 27 | 28 | 29 | 30 | |
| Jul 2019 | 1 | 2 | 3 | 4 | 5 | 6 | 7 | 8 | 9 | 10 | 11 | 12 | 13 | 14 | 15 | 16 | 17 | 18 | 19 | 20 | 21 | 22 | 23 | 24 | 25 | 26 | 27 | 28 | 29 | 30 | 31 |
| Aug 2019 | 1 | 2 | 3 | 4 | 5 | 6 | 7 | 8 | 9 | 10 | 11 | 12 | 13 | 14 | 15 | 16 | 17 | 18 | 19 | 20 | 21 | 22 | 23 | 24 | 25 | 26 | 27 | 28 | 29 | 30 | 31 |
| Sep 2019 | 1 | 2 | 3 | 4 | 5 | 6 | 7 | 8 | 9 | 10 | 11 | 12 | 13 | 14 | 15 | 16 | 17 | 18 | 19 | 20 | 21 | 22 | 23 | 24 | 25 | 26 | 27 | 28 | 29 | 30 | |
| Oct 2019 | 1 | 2 | 3 | 4 | 5 | 6 | 7 | 8 | 9 | 10 | 11 | 12 | 13 | 14 | 15 | 16 | 17 | 18 | 19 | 20 | 21 | 22 | 23 | 24 | 25 | 26 | 27 | 28 | 29 | 30 | 31 |
| Nov 2019 | 1 | 2 | 3 | 4 | 5 | 6 | 7 | 8 | 9 | 10 | 11 | 12 | 13 | 14 | 15 | 16 | 17 | 18 | 19 | 20 | 21 | 22 | 23 | 24 | 25 | 26 | 27 | 28 | 29 | 30 | |
---