CLAIRE
$119,000 - $150,000 / WEEK
---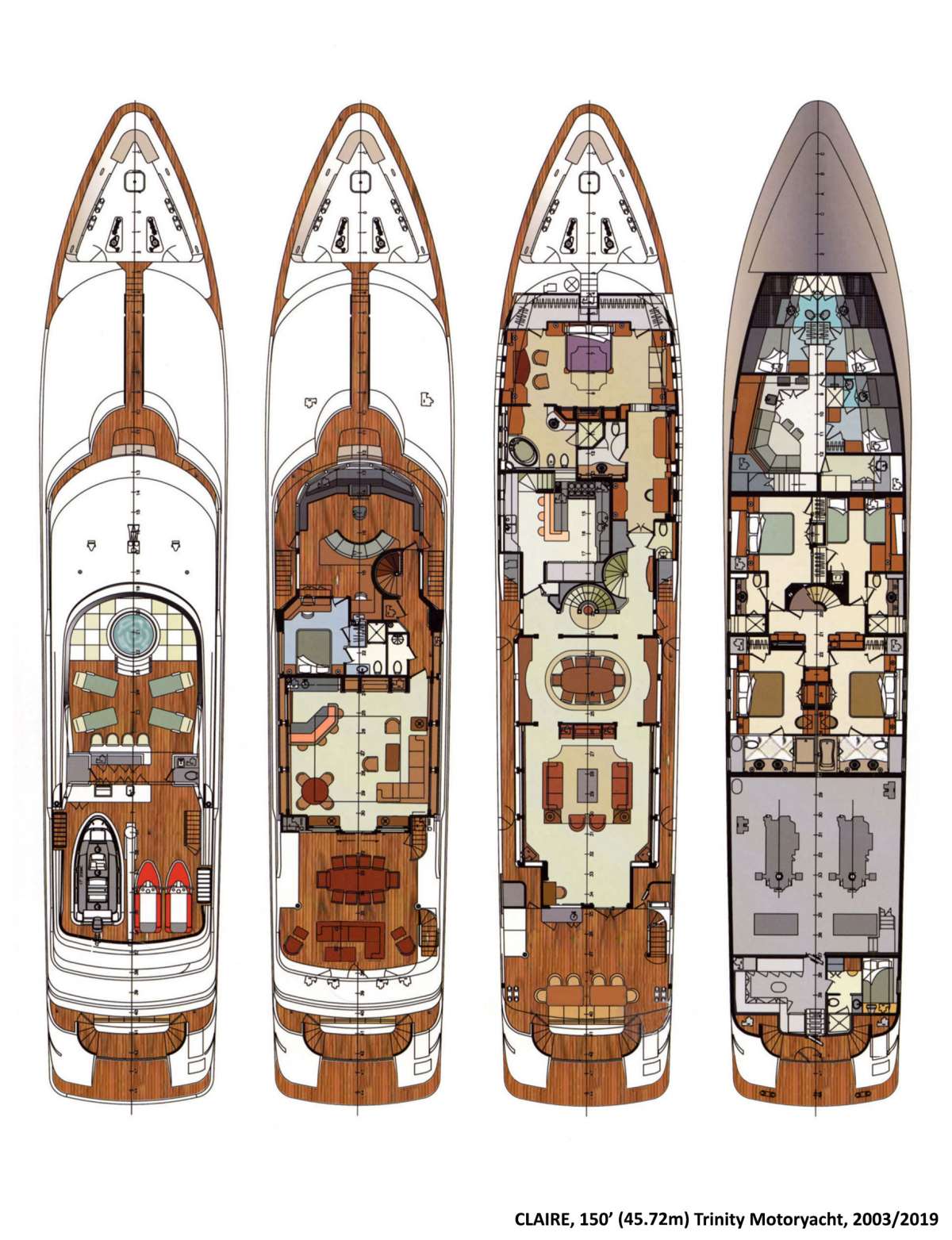 Boat Details
| | |
| --- | --- |
| Cabins: | 5 |
| Queen: | - |
| Single Cabins: | 1 |
| Showers: | - |
| Wash Basins: | - |
| Heads: | - |
| Electric Heads: | - |
Pick Up Locations
| | |
| --- | --- |
| Pref. Pick-up: | - |
| Other Pick-up: | - |
---
Details
| | |
| --- | --- |
| Refit: | 2013 |
| Helipad: | No |
| Jacuzzi: | Yes |
| A/C: | Full |
Engine Details
Engines: (2) Caterpillar 3512B diesels @ 2,250hp each Generators: (2) 99 kW Kilpak
Fuel Consumption:
86
Cruising Speed:
18 knots
Max Speed:
21.5 knotsUS Gall/Hr
Locations
| | |
| --- | --- |
| Winter Area: | Bahamas, Florida |
| Summer Area: | Bahamas, Florida |
---
Amenities
Salon Tv/VCR:
-
Salon Stereo:
-
Sat Tv:
• Kaleidoscope A/V system on demand
• (4) 21" flat panel multi-system (Staterooms)
• (2) 42" Plasma multi-system (Main Salon, Sky Lounge)
• 32" Plasma multi-system (Master)
• (10) DV 353 Pioneer DVD players (All guest and common areas)
• SLV-ED 100 ME Sony multi-system (Master)
• 42" Flat screen TV (Main Deck, Bridge Deck Aft)
• 32" Flat screen TV (Sun Deck)
• I-Pod connection in all A.V.

• Fleet 77 SAT COM
• Panasonic telephone system
• Furuno SSB
• Furuno VHF
• Nokia cellular phone system
• Panasonic intercom
• Wireless Internet throughout 24/7
# of Videos:
-
# DVDs/Movies:
-
# CD's:
-
Camcorder:
-
Books:
-
Board Games:
-
Sun Awning:
-
Deck Shower:
-
Bimini:
-
Water Maker:
-
| | |
| --- | --- |
| Special Diets: | Inq |
| Kosher: | Inq |
| BBQ: | - |
| # Dine In: | - |
| Minimum Age: | - |
| Generator: | - |
| Inverter: | - |
| Voltages: | - |
| Water Maker: | - |
| Water Cap: | - |
| Ice Maker: | - |
| Sailing Instructions: | - |
| Internet Access: | - |
| | |
| --- | --- |
| Gay Charters: | Inq |
| Nude: | Inq |
| Hairdryers: | - |
| # Port Hatches: | - |
| Guests Smokes: | - |
| Crew Smokes: | - |
| Pets Aboard: | No |
| Pet Type: | - |
| Guest Pets: | - |
| Children Ok: | - |
| Hammock: | - |
| Windscoops: | - |
---
Water Sports
| | |
| --- | --- |
| Dinghy size: | - |
| Dinghy hp: | - |
| Dinghy # pax: | - |
| Water Skis Adult: | Yes |
| Water Skis Kids: | Yes |
| Jet Skis: | - |
| Wave Runners: | Yes |
| Kneeboard: | Yes |
| Windsurfer: | - |
| Snorkel Gear: | Yes |
| Tube: | Yes |
| | |
| --- | --- |
| Scurfer: | - |
| Wake Board: | Yes |
| Kayaks 1 Pax: | No |
| Kayaks (2 Pax): | Yes |
| Floating Mats: | Yes |
| Swim Platform: | - |
| Boarding Ladder (Loc/Type): | - |
| Sailing Dinghy: | - |
| Beach Games: | Yes |
| Fishing Gear: | Yes |
| Gear Type: | - |
| Rods: | - |
CLAIRE Crew Profiles
CAPTAIN MARCIO JASPAN | BRAZILIAN
With 20 years of experience as a yacht captain and engineer, Captain Marcio operates CLAIRE with the utmost safety and care for those on board. Having only worked aboard 5 yachts in his career span, he is a dedicated and loyal professional. Speaking 3 languages, Captain Marcio is highly cultured, and has traveled the world extensively while on charter, and privately as well. He leads a strong team of dedicated crew, and creates a truly familial environment for all those on board. As a dive master, he thoroughly enjoys the water, and oftentimes instructs charter guests on how to get the best out of a diving excursion. A dedicated family man, Captain Marcio lives with his wife and young daughter in Florida, when he is not on charter.

CHEF ANDY ORZECHOWSKI | GERMAN
After nearly a decade creating delectable dishes throughout Europe, Chef Andy traveled extensively around Asia, and developed a flair for its influence in his cuisine. The chef's love of travel brought him to the galley of several notable superyachts, including PEGASO and LADY M, where he was a private and charter chef for 10 years. Prior to joining the crew of CLAIRE, Andy worked as private chef to a high ranking government official in North Africa. When not on board, Chef Andy lives in Bangkok with his wife and 2 children.

CHIEF OFFICER KARL VANLINT | BRITISH
With nearly 10 years of experience on the water as a chief officer, Karl worked throughout the Caribbean, Indian Ocean, and Europe. Having spent much time in Italy, he picked up some of the language and can speak it conversationally. Karl's flair for specialized activities aboard charters has won him tremendous popularity among guests, and he often inspires his fellow crew. Karl has both a commercial license and his MCA Unlimited certification, and currently runs the deck department to ensure that the guests of CLAIRE have the most enjoyable and safe experience possible.

CHIEF ENGINEER WILLIAM VALVERDE | PANAMANIAN
Hailing from the country of Panama, William pursued a career in nautical engineering, having been inspired by large ships passing through the Canal. During his sea-going career working on cruise ships as a second engineer, and later luxury yachts, he has always enjoyed learning new things, while having had the privilege of traveling around the world visiting many countries and learning about various cultures. Now aboard CLAIRE as chief engineer, William is enthusiastic and passionate about his career. In his spare time, he enjoys snorkeling, cycling, and loves dancing, especially to Latin music.

CHIEF STEWARDESS MARYLENE BOSSE | FRENCH
Raised in Paris, Marylene or "Maz", as she is known by those close to her, began her career working for a high-end, 5-star hotel on the Champs-Elysees. After having been introduced to the yachting industry by a relative, she began by working as a stewardess aboard a 40 meter yacht based in the South of France. Marylene is a master behind the bar, mixing creative cocktails and brewing delectable coffees for guests. With fine attention to detail in everything she does, Marylene has had many great opportunities in yacht charters, including two Atlantic crossings on sailing yachts. She is bilingual, speaking both English and French fluently.

STEWARD/DECK HAND EFREM NANTA | PHILLIPINO
With over 13 years of experience in the yachting industry aboard yachts over 100 feet, Efrem is meticulous, and works hard to ensure the best in service to charter guests. As a mate and steward, he is as versatile on deck as he is inside the yacht, paying attention to small details that typical stews might not consider. After spending much of his career cruising Singapore, Hong Kong, Indonesia, China, and Vietnam, Efrem is now enjoying life on the opposite side of the pond aboard CLAIRE.

DECKHAND DARIO FERGUSON | BAHAMIAN
Coming from the chain of islands known for its sun, sand, and sea – the Bahamas – Dario grew up spending all his summers snorkeling, spear fishing, and exploring the ocean on a small boat. Having always had a passion for the water as a child, he would fantasize about the super yachts as they passed by, and said to himself that one day he too, would be a captain, and is now on that journey. Because of his history as a lifeguard and first-responder paramedic, Dario values safety, and it carries through aboard the yacht. With four years of experience at a five-star luxury resort, as well as 2 years as a deckhand, Dario has a friendly, outgoing personality, and ensures premium service aboard CLAIRE.

(15 December -30 April)
Bahamas, Florida
(1 May - 14 December)
Bahamas, Florida
| | | | | | | | | | | | | | | | | | | | | | | | | | | | | | | | |
| --- | --- | --- | --- | --- | --- | --- | --- | --- | --- | --- | --- | --- | --- | --- | --- | --- | --- | --- | --- | --- | --- | --- | --- | --- | --- | --- | --- | --- | --- | --- | --- |
| Nov 2017 | 1 | 2 | 3 | 4 | 5 | 6 | 7 | 8 | 9 | 10 | 11 | 12 | 13 | 14 | 15 | 16 | 17 | 18 | 19 | 20 | 21 | 22 | 23 | 24 | 25 | 26 | 27 | 28 | 29 | 30 | |
| Dec 2017 | 1 | 2 | 3 | 4 | 5 | 6 | 7 | 8 | 9 | 10 | 11 | 12 | 13 | 14 | 15 | 16 | 17 | 18 | 19 | 20 | 21 | 22 | 23 | 24 | 25 | 26 | 27 | 28 | 29 | 30 | 31 |
| Jan 2018 | 1 | 2 | 3 | 4 | 5 | 6 | 7 | 8 | 9 | 10 | 11 | 12 | 13 | 14 | 15 | 16 | 17 | 18 | 19 | 20 | 21 | 22 | 23 | 24 | 25 | 26 | 27 | 28 | 29 | 30 | 31 |
| Feb 2018 | 1 | 2 | 3 | 4 | 5 | 6 | 7 | 8 | 9 | 10 | 11 | 12 | 13 | 14 | 15 | 16 | 17 | 18 | 19 | 20 | 21 | 22 | 23 | 24 | 25 | 26 | 27 | 28 | | | |
| Mar 2018 | 1 | 2 | 3 | 4 | 5 | 6 | 7 | 8 | 9 | 10 | 11 | 12 | 13 | 14 | 15 | 16 | 17 | 18 | 19 | 20 | 21 | 22 | 23 | 24 | 25 | 26 | 27 | 28 | 29 | 30 | 31 |
| Apr 2018 | 1 | 2 | 3 | 4 | 5 | 6 | 7 | 8 | 9 | 10 | 11 | 12 | 13 | 14 | 15 | 16 | 17 | 18 | 19 | 20 | 21 | 22 | 23 | 24 | 25 | 26 | 27 | 28 | 29 | 30 | |
| May 2018 | 1 | 2 | 3 | 4 | 5 | 6 | 7 | 8 | 9 | 10 | 11 | 12 | 13 | 14 | 15 | 16 | 17 | 18 | 19 | 20 | 21 | 22 | 23 | 24 | 25 | 26 | 27 | 28 | 29 | 30 | 31 |
| Jun 2018 | 1 | 2 | 3 | 4 | 5 | 6 | 7 | 8 | 9 | 10 | 11 | 12 | 13 | 14 | 15 | 16 | 17 | 18 | 19 | 20 | 21 | 22 | 23 | 24 | 25 | 26 | 27 | 28 | 29 | 30 | |
| Jul 2018 | 1 | 2 | 3 | 4 | 5 | 6 | 7 | 8 | 9 | 10 | 11 | 12 | 13 | 14 | 15 | 16 | 17 | 18 | 19 | 20 | 21 | 22 | 23 | 24 | 25 | 26 | 27 | 28 | 29 | 30 | 31 |
| Aug 2018 | 1 | 2 | 3 | 4 | 5 | 6 | 7 | 8 | 9 | 10 | 11 | 12 | 13 | 14 | 15 | 16 | 17 | 18 | 19 | 20 | 21 | 22 | 23 | 24 | 25 | 26 | 27 | 28 | 29 | 30 | 31 |
| Sep 2018 | 1 | 2 | 3 | 4 | 5 | 6 | 7 | 8 | 9 | 10 | 11 | 12 | 13 | 14 | 15 | 16 | 17 | 18 | 19 | 20 | 21 | 22 | 23 | 24 | 25 | 26 | 27 | 28 | 29 | 30 | |
| Oct 2018 | 1 | 2 | 3 | 4 | 5 | 6 | 7 | 8 | 9 | 10 | 11 | 12 | 13 | 14 | 15 | 16 | 17 | 18 | 19 | 20 | 21 | 22 | 23 | 24 | 25 | 26 | 27 | 28 | 29 | 30 | 31 |
---