---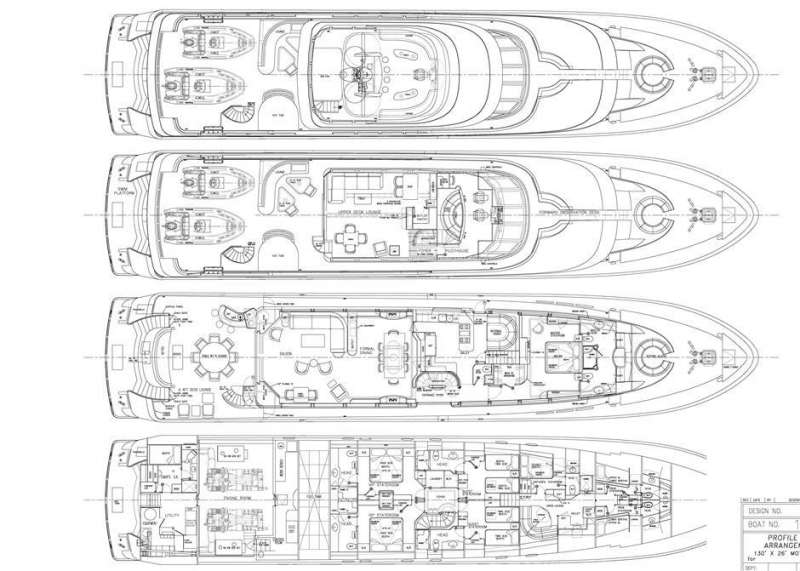 Boat Details
| | |
| --- | --- |
| Cabins: | 5 |
| Queen: | - |
| Single Cabins: | 1 |
| Showers: | 5 |
| Wash Basins: | - |
| Heads: | 7 |
| Electric Heads: | - |
Pick Up Locations
| | |
| --- | --- |
| Pref. Pick-up: | - |
| Other Pick-up: | - |
---
Details
| | |
| --- | --- |
| Refit: | 2016 |
| Helipad: | No |
| Jacuzzi: | Yes |
| A/C: | Full |
Engine Details
2735 HP 12V4000 MTU 2 Northern Lights 65KW generators
Fuel Consumption:
120
Cruising Speed:
19
Max Speed:
25US Gall/Hr
Locations
| | |
| --- | --- |
| Winter Area: | Bahamas |
| Summer Area: | Bahamas, New England |
---
Amenities
| | |
| --- | --- |
| Salon Tv/VCR: | Yes |
| Salon Stereo: | Yes |
| Sat Tv: | VSAT WiFi |
| # of Videos: | - |
| # DVDs/Movies: | - |
| # CD's: | - |
| Camcorder: | - |
| Books: | - |
| Board Games: | Yes |
| Sun Awning: | - |
| Deck Shower: | Yes |
| Bimini: | - |
| Water Maker: | - |
| | |
| --- | --- |
| Special Diets: | Yes |
| Kosher: | Inq |
| BBQ: | Yes |
| # Dine In: | - |
| Minimum Age: | - |
| Generator: | - |
| Inverter: | - |
| Voltages: | - |
| Water Maker: | - |
| Water Cap: | - |
| Ice Maker: | Yes |
| Sailing Instructions: | 18' |
| Internet Access: | Onboard WIFI |
| | |
| --- | --- |
| Gay Charters: | Inq |
| Nude: | Inq |
| Hairdryers: | Yes |
| # Port Hatches: | - |
| Guests Smokes: | - |
| Crew Smokes: | No |
| Pets Aboard: | No |
| Pet Type: | - |
| Guest Pets: | - |
| Children Ok: | Yes |
| Hammock: | - |
| Windscoops: | - |
---
Water Sports
| | |
| --- | --- |
| Dinghy size: | 34' Yellowfin |
| Dinghy hp: | - |
| Dinghy # pax: | - |
| Water Skis Adult: | Yes |
| Water Skis Kids: | Yes |
| Jet Skis: | - |
| Wave Runners: | 2 |
| Kneeboard: | Yes |
| Windsurfer: | - |
| Snorkel Gear: | Yes |
| Tube: | Yes |
| | |
| --- | --- |
| Scurfer: | - |
| Wake Board: | Yes |
| Kayaks 1 Pax: | - |
| Kayaks (2 Pax): | Yes |
| Floating Mats: | Yes |
| Swim Platform: | - |
| Boarding Ladder (Loc/Type): | - |
| Sailing Dinghy: | 18' |
| Beach Games: | Yes |
| Fishing Gear: | Yes |
| Gear Type: | - |
| Rods: | - |
CAPTAIN ANGUS
Angus loves the water and was already sailing as a toddler and now at 49, he has spent a lot of time messing around in a variety of boats. Taking care of all, with careful involvement of all the crew, he will ensure your safety and ease you through your trip; from planning what to pack to returning home or off to an onward journey with great memories from the time you spent on board. Angus has cruised in Europe, East Coast, West Coast, Alaska, Caribbean and Bahamas with a number of refits and crossings. Angus is a great team player, ever eager to help out his crew if you don't find him at the helm. As his invite reads: "Come join us, we shall take care of your every need and more!!"

CHEF KAT
Kat's passion for food is sure to be one of the many wonderful highlights you will experience on board. With a three year culinary bachelor degree which she completed in Finland, running restaurants abroad and keeping her hand at interest, she also enrolled in various specific style short courses since, including Asian, Thai, Cambodian to add more ethnic recipe's to her creativity in the galley. Travelling extensively in Asia, she enjoys the various cuisines. This Finnish Lass recently completed the Ship's Cook MCA Course, and will tantalize the timid in palette. Kat will source fresh and locally obtained ingredients making sure that the majority of dishes are homemade where ingredients and timing allow. Open minded as ever, Kat will discuss and cater to all dietary needs prior to your trip and daily during your cruise. Stop by the galley and see what is coming together!

ENGINEER RILEY

Riley was born and raised in the greater Christchurch, New Zealand. Riley grew up playing rugby and enjoyed the outdoors, but soon found a talent for repairing and maintaining cars and boats. Riley successfully worked in and managed an electronics & appliance business. While doing so, he continued his studies in business management leading to a career as a key account manager in New Zealand. Riley had a desire to travel and see the world, taking a gap year to find what was next, it lead to the yachting industry which soon became his new career. Riley keeps Antares running smoothly, takes great pride in his well-kept engine room and will give tours on request.

MATE ALEX

Alex grew up surfing and fishing as a way of life. Alex was raised in Anna Bay, a small coastal town on Australia's East coast. Having a passion for the water and the life around it, he later spent 7 years qualifying and working as a boat builder, before combining his work and hobbies into a career in yachting. Alex is your go to fishing guide on board and a guarantee a good time as you hook a big one!

CHIEF STEWARDESS JACOLINE

After completing a degree in consumer science, Jacoline decided to join the yachting industry and has loved it ever since. Growing up on a farm in South Africa, life on the water is very different, but is something that has brought out the best part of her personality. Jacoline is outgoing, creative, adventurous and enjoys new experiences. Jacoline enjoys all guest interactions and will make you feel right at home. Jacoline looks forward to serving and assisting with all hospitality needs.

STEWARDESS STORM

Storm was born in South Africa and spent a large portion of her childhood sailing the world before her family settled in Central America. Being on or around boats, Storm knew that her skills and talents will be something that could ensure a career on the water. Storm loves adventure, people and new challenges. Being a stewardess on board a yacht has given her the opportunity to explore many different ports and add to her very well-travelled log of places in the world.
Storm is fluent in Spanish and Costa Rica is where she calls home, if not on board.

BOSUN ANDREW

Andrew hails from the southern coast of South Africa. Andrew grew up surrounded by beautiful beaches and water ways and has always considered the ocean a second home. After graduating with a degree in Sports Science, he ventured off to join the world's largest cruise ship and from there a career in Super Yachts emerged. He enjoys being on or around the water and with all the water toys that he has to manage, Andrew will ensure your time aboard will be full of entertainment, memorable with a variety of water sports and activities to suit your needs.


(15 December -30 April)
Bahamas
(1 May - 14 December)
Bahamas, New England
| | | | | | | | | | | | | | | | | | | | | | | | | | | | | | | | |
| --- | --- | --- | --- | --- | --- | --- | --- | --- | --- | --- | --- | --- | --- | --- | --- | --- | --- | --- | --- | --- | --- | --- | --- | --- | --- | --- | --- | --- | --- | --- | --- |
| Jul 2018 | 1 | 2 | 3 | 4 | 5 | 6 | 7 | 8 | 9 | 10 | 11 | 12 | 13 | 14 | 15 | 16 | 17 | 18 | 19 | 20 | 21 | 22 | 23 | 24 | 25 | 26 | 27 | 28 | 29 | 30 | 31 |
| Aug 2018 | 1 | 2 | 3 | 4 | 5 | 6 | 7 | 8 | 9 | 10 | 11 | 12 | 13 | 14 | 15 | 16 | 17 | 18 | 19 | 20 | 21 | 22 | 23 | 24 | 25 | 26 | 27 | 28 | 29 | 30 | 31 |
| Sep 2018 | 1 | 2 | 3 | 4 | 5 | 6 | 7 | 8 | 9 | 10 | 11 | 12 | 13 | 14 | 15 | 16 | 17 | 18 | 19 | 20 | 21 | 22 | 23 | 24 | 25 | 26 | 27 | 28 | 29 | 30 | |
| Oct 2018 | 1 | 2 | 3 | 4 | 5 | 6 | 7 | 8 | 9 | 10 | 11 | 12 | 13 | 14 | 15 | 16 | 17 | 18 | 19 | 20 | 21 | 22 | 23 | 24 | 25 | 26 | 27 | 28 | 29 | 30 | 31 |
| Nov 2018 | 1 | 2 | 3 | 4 | 5 | 6 | 7 | 8 | 9 | 10 | 11 | 12 | 13 | 14 | 15 | 16 | 17 | 18 | 19 | 20 | 21 | 22 | 23 | 24 | 25 | 26 | 27 | 28 | 29 | 30 | |
| Dec 2018 | 1 | 2 | 3 | 4 | 5 | 6 | 7 | 8 | 9 | 10 | 11 | 12 | 13 | 14 | 15 | 16 | 17 | 18 | 19 | 20 | 21 | 22 | 23 | 24 | 25 | 26 | 27 | 28 | 29 | 30 | 31 |
| Jan 2019 | 1 | 2 | 3 | 4 | 5 | 6 | 7 | 8 | 9 | 10 | 11 | 12 | 13 | 14 | 15 | 16 | 17 | 18 | 19 | 20 | 21 | 22 | 23 | 24 | 25 | 26 | 27 | 28 | 29 | 30 | 31 |
| Feb 2019 | 1 | 2 | 3 | 4 | 5 | 6 | 7 | 8 | 9 | 10 | 11 | 12 | 13 | 14 | 15 | 16 | 17 | 18 | 19 | 20 | 21 | 22 | 23 | 24 | 25 | 26 | 27 | 28 | | | |
| Mar 2019 | 1 | 2 | 3 | 4 | 5 | 6 | 7 | 8 | 9 | 10 | 11 | 12 | 13 | 14 | 15 | 16 | 17 | 18 | 19 | 20 | 21 | 22 | 23 | 24 | 25 | 26 | 27 | 28 | 29 | 30 | 31 |
| Apr 2019 | 1 | 2 | 3 | 4 | 5 | 6 | 7 | 8 | 9 | 10 | 11 | 12 | 13 | 14 | 15 | 16 | 17 | 18 | 19 | 20 | 21 | 22 | 23 | 24 | 25 | 26 | 27 | 28 | 29 | 30 | |
| May 2019 | 1 | 2 | 3 | 4 | 5 | 6 | 7 | 8 | 9 | 10 | 11 | 12 | 13 | 14 | 15 | 16 | 17 | 18 | 19 | 20 | 21 | 22 | 23 | 24 | 25 | 26 | 27 | 28 | 29 | 30 | 31 |
| Jun 2019 | 1 | 2 | 3 | 4 | 5 | 6 | 7 | 8 | 9 | 10 | 11 | 12 | 13 | 14 | 15 | 16 | 17 | 18 | 19 | 20 | 21 | 22 | 23 | 24 | 25 | 26 | 27 | 28 | 29 | 30 | |
---