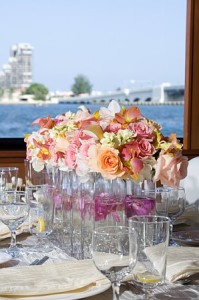 Is this year's birthday something special or do you want to treat yourself? Royal Yacht Charters is the perfect partner to make this birthday truly memorable.
Royal Yacht Charters has some of the finest yachts on the market to spend your birthday celebration aboard. Cruise through the dazzling intracoastal waterway and admire the scenic view of multimillion dollar mansions.
Your tour guide will talk about the history of the area while you sit back and relax with a cool drink and take in the sights. Your gourmet lunch will be arranged at a local restaurant or served on board.
Our event staff can plan your birthday celebration and customize the experience to suit your specific needs.
We can be flexible on your plans and amenities you want included.
We have the yachts to accommodate most party sizes with features you would expect from a first class charter.
Make this year the year to celebrate your birthday in style and make a birthday wish come true with a yacht charter from us. We are the ultimate in birthday party venues.
For more information, please contact Royal Yacht Charters.