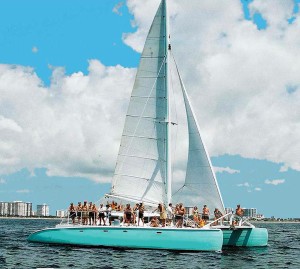 Sailing on our Catamarans is an experience to remember. As our guest, you will enjoy a scenic intracoastal waterway cruise and view the estate mansions, then sail out into the Atlantic Ocean and see the amazing marine life. Swimming, sailing, fishing and snorkeling are some of the activities to experience on our cruises. You'll find there's nothing like the exhilaration of sailing in the open ocean as our hulls cut through the water, gliding over the waves with the sounds of the winds in our sails. Enjoy a day of fun in the sun, anchored in a shallow 15' reef, where you snorkel or swim at your leisure. We supply snorkeling gear and a professional instructor to help the less experienced. Sea Turtles, colorful tropical fish, and our beautiful coral reefs are some of the things to see on the Florida reefs.
The Florida Keys are a great alternative to experiencing a tropical vacation while never leaving the continental US. The Keys offer world class sport fishing, scuba diving and snorkeling. We can help you enjoy all that with one of our Catamaran Yacht Charters.
Whether you decide to go snorkeling from our catamaran or do a night dive on one of the wrecks in the Keys you will be amazed by the abundance of sea life.
We can base the destination itinerary on you, what you want to do and when you want to do it. If your plan is just to anchor and relax for the day so be it.
You will enjoy total comfort on our catamaran. You will have plenty of room on the deck area and ample room to lounge and enjoy the sun or just chill.
Swim, feel the breeze on your face and take in the spectacular sunsets. Make your vacation experience one to remember with a catamaran yacht charter.
We plan your charter the way that you want it. It can be the best vacation you ever had.
For more information, please contact Royal Yacht Charters.