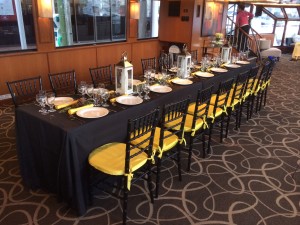 Have a corporate event you want to crush it with? Maybe you are launching a new product, have VIP clients to entertain or a major business meeting, let Royal Yacht Charters make it a top notch experience.
We can plan one of the most exciting and fun team building events for your employees, for which they will not forget! The event would be customized for your specific group at the closest marina to your hotel. What a way to get your employees motivated and to work together in tandem with there compadres, than to go sailing in paradise. Our staff will set up a race course with buoys, markers, flags, and keep the handicaps of each boat along with the stats of the race. A videographer is also available to record the entire event.. Each team member can participate as a crew and learn how to sail in the open ocean, or they can sit back and relax and enjoy the ride. We set up job descriptions to challenge each crew.
What better way to impress than with one of our gorgeous yachts. Our staff will plan the perfect corporate event with you.
Our yachts are fully equipped to meet your media needs and provide the meeting space required.
We will customize a menu specifically for your event including any specialty drinks you desire. We can also customize the entertainment choice to meet the occasion.
We have established relationships with Miami local businesses that can provide outside services required by your event, such as photographers etc.
For the discriminating corporate client you can't go wrong with a yacht charter from Royal Yacht Charter.
This year why not do your Christmas party in style.
Why not mix some business with pleasure and let us make your next major corporate event truly an unforgettable one.
Contact us so we can customize your proposal for your group event.