MILK & HONEY
$98,000 - $115,000 / WEEK
---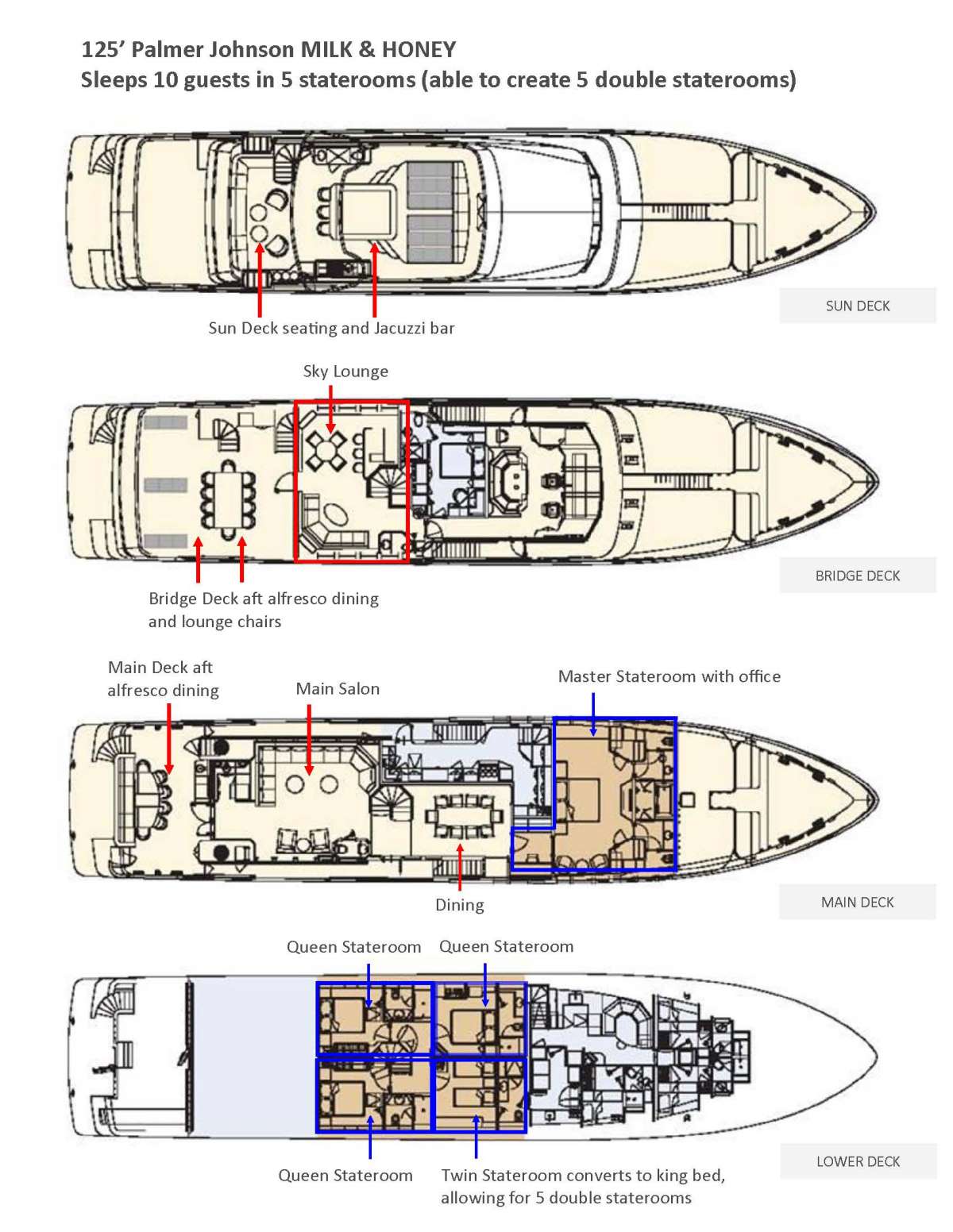 Boat Details
| | |
| --- | --- |
| Cabins: | 5 |
| Queen: | 3 |
| Single Cabins: | 1 |
| Showers: | 5 |
| Wash Basins: | 5 |
| Heads: | 5 |
| Electric Heads: | - |
Pick Up Locations
| | |
| --- | --- |
| Pref. Pick-up: | - |
| Other Pick-up: | Caribbean |
---
Details
| | |
| --- | --- |
| Refit: | 2020 |
| Helipad: | No |
| Jacuzzi: | Yes |
| A/C: | Full |
Engine Details
Engines: 2 x MTU 16 2000 Generators: 2 x 80KW Northern Lights Fuel: 12,460 gallons Water: 1,800 gallons
Fuel Consumption:
65
Cruising Speed:
11.5
Max Speed:
-
Locations
| | |
| --- | --- |
| Winter Area: | Caribbean Virgin Islands, Bahamas, Caribbean Leewards, Caribbean Windwards |
| Summer Area: | Bahamas, USA - New England, USA - Florida |
---
Amenities
Salon Tv/VCR:
Yes
Salon Stereo:
Yes
Sat Tv:
Communications and Comfort at its best
MILK & HONEY offers V SAT High speed internet at NO CHARGE and ZERO SPEED At Anchor stabilizers!
Satcom
Cell phone
Fax
Ipod hook up and cell phone charging stations in each room

# of Videos:
-
# DVDs/Movies:
lots
# CD's:
-
Camcorder:
-
Books:
lots
Board Games:
Yes
Sun Awning:
Yes
Deck Shower:
Yes
Bimini:
Yes
Water Maker:
yes
| | |
| --- | --- |
| Special Diets: | Yes |
| Kosher: | No |
| BBQ: | Yes |
| # Dine In: | - |
| Minimum Age: | - |
| Generator: | 2 x 80KW Northern Lights |
| Inverter: | - |
| Voltages: | 110 |
| Water Maker: | yes |
| Water Cap: | 2,000 |
| Ice Maker: | Yes |
| Sailing Instructions: | no |
| Internet Access: | - |
| | |
| --- | --- |
| Gay Charters: | Yes |
| Nude: | Yes |
| Hairdryers: | Yes |
| # Port Hatches: | - |
| Guests Smokes: | - |
| Crew Smokes: | No |
| Pets Aboard: | No |
| Pet Type: | - |
| Guest Pets: | - |
| Children Ok: | Yes |
| Hammock: | - |
| Windscoops: | - |
---
Water Sports
| | |
| --- | --- |
| Dinghy size: | Nautica |
| Dinghy hp: | 200 |
| Dinghy # pax: | - |
| Water Skis Adult: | Yes |
| Water Skis Kids: | Yes |
| Jet Skis: | No |
| Wave Runners: | No |
| Kneeboard: | 1 |
| Windsurfer: | No |
| Snorkel Gear: | Yes |
| Tube: | Yes |
| | |
| --- | --- |
| Scurfer: | No |
| Wake Board: | Yes |
| Kayaks 1 Pax: | No |
| Kayaks (2 Pax): | 2 |
| Floating Mats: | Yes |
| Swim Platform: | YES |
| Boarding Ladder (Loc/Type): | Yes |
| Sailing Dinghy: | no |
| Beach Games: | Yes |
| Fishing Gear: | Yes |
| Gear Type: | - |
| Rods: | - |
Captain William Widman | American
Once aboard MILK & HONEY, you'll be greeted by her enthusiastic and approachable captain William Widman. Your charter experience and safety are the most important to Captain William. He grew up in Melbourne Beach, Florida where he started sailing at age 10. Being on the water has always been part of his life. He spent five years active duty with the U.S. Navy as a Communications Intelligence specialist with service on surface ships and submarines. William has been a professional captain for over twenty-years with experience on power and sailing vessels up to 170'. He has experience in cruising the US Virgin Islands, BVI, Florida, Bahamas, New England, and Bermuda, as well as the Canadian maritimes down thru the Panama Canal, PC to Alaska, and Great Lakes. William has previously held captain's positions on private and charter yachts including 170' Custom S/Y MYSTIC and 155' M/Y CHEROSA. He holds a USCG Masters 1600-ton/3000 ITC Ocean's license.

Chief Stewardess Cynthia Marcolini
Originally from Chile, Cynthia has over 10 years experienced working on both private and charter vessels ranging from 98' to 282', including 200' M/Y NEW SUNRISE, 282' M/Y QUATROELLE and is highly confident on leading the interior department. She has held positions in hotels and restaurants in Chile, Welcoming and professional, she has a great eye for detail with a positive uplifting energy. Besides keeping the interior of MILK & HONEY in impeccable order, Cynthia ensures guests will stay well pampered with the highest level of service. Her hobbies include painting, scuba diving, backpacking, and all things outdoors.

Chef Andrew Forster
Andrew is from Raleigh, NC and has an extensive background in high-end restaurants, hotels, and private yacht operations. His love of food started at an early age, and by the age of 17, he had won 2 cooking competitions in New York. He is a graduate of the Culinary Institute of America in Hyde Park, NY. Andrew has worked at 5 Star and 5 Diamond hotels and restaurants, as well as owning a food truck business. He has managed kitchens with up to 17 staff running both back and front of house operations, and has held previous chef positions on 143' M/Y STARSHIP and 145' M/Y AT LAST. Andrew's culinary specialties includes Mediterranean, Asian fusion, sushi, farm-to-table, and artisan breads and pastries, and he is well-versed in gluten-free, vegan/vegetarian, and paleo diets. In his free time, he helps out at his family's equestrian farm in North Carolina. Andrew is also a Licensed Massage Therapist.

Mate Jared Mowbry
Jared has experience working as mate and bosun on both private and charter yachts including 114' M/Y VIVERE and 147' M/Y ICE 5. He has a strong commitment to safety and a positive, can-do attitude. His hobbies include underwater photography and drones, SCUBA, and anything on the water. Jared is working to obtain his SSI Master Diver rating.

2nd Stewardess Natalie Boutilier
Natalie is a passionate and high-energy person with an upbeat, engaging personality. She is experienced in yacht charters and private owner, has excellent service skills, and she has over 18 years hospitality experience. She is skilled in fine service details, from table scaping and beach party set ups, to daily and nightly turn ups and turn downs. Natalie enjoys all type of water activities, as well as surfing and traveling. She loves a challenge and is always ready to hit the ground running.

Deckhand Jessica Stich
Jessica is energetic and athletic and welcomes guests aboard MILK & HONEY with her gracious big smile. Previously held positions on M/Y ARTHUR'S WAY, M/Y GODDESS, S/Y LIBERTY, and M/Y NINA LU. Prior to joining the yachting industry, she worked at Sarasota Yacht Club providing high level guest services. Jessica is a PADI Open Water Scuba Instructor and can accommodate guests on rendezvous dives. She has taught diving for open water, advanced and specialty courses. She is also a Personal Trainer and Group Fitness Instructor and will happily work with guests' daily workout routines.

Engineer Noah Mitchum
Noah has over 20 years of experience in the maritime industry having worked in engineer and deckhand positions on a variety of private and charter yachts, including 130' M/Y RHINO. His hobbies include fishing, free diving, spearfishing, surfing, and traveling. He is also an SCCA race car certified instructor.
(15 December -30 April)
Caribbean Virgin Islands, Bahamas, Caribbean Leewards, Caribbean Windwards
(1 May - 14 December)
Bahamas, USA - New England, USA - Florida
| | | | | | | | | | | | | | | | | | | | | | | | | | | | | | | | |
| --- | --- | --- | --- | --- | --- | --- | --- | --- | --- | --- | --- | --- | --- | --- | --- | --- | --- | --- | --- | --- | --- | --- | --- | --- | --- | --- | --- | --- | --- | --- | --- |
| Feb 2022 | 1 | 2 | 3 | 4 | 5 | 6 | 7 | 8 | 9 | 10 | 11 | 12 | 13 | 14 | 15 | 16 | 17 | 18 | 19 | 20 | 21 | 22 | 23 | 24 | 25 | 26 | 27 | 28 | | | |
| Mar 2022 | 1 | 2 | 3 | 4 | 5 | 6 | 7 | 8 | 9 | 10 | 11 | 12 | 13 | 14 | 15 | 16 | 17 | 18 | 19 | 20 | 21 | 22 | 23 | 24 | 25 | 26 | 27 | 28 | 29 | 30 | 31 |
| Apr 2022 | 1 | 2 | 3 | 4 | 5 | 6 | 7 | 8 | 9 | 10 | 11 | 12 | 13 | 14 | 15 | 16 | 17 | 18 | 19 | 20 | 21 | 22 | 23 | 24 | 25 | 26 | 27 | 28 | 29 | 30 | |
| May 2022 | 1 | 2 | 3 | 4 | 5 | 6 | 7 | 8 | 9 | 10 | 11 | 12 | 13 | 14 | 15 | 16 | 17 | 18 | 19 | 20 | 21 | 22 | 23 | 24 | 25 | 26 | 27 | 28 | 29 | 30 | 31 |
| Jun 2022 | 1 | 2 | 3 | 4 | 5 | 6 | 7 | 8 | 9 | 10 | 11 | 12 | 13 | 14 | 15 | 16 | 17 | 18 | 19 | 20 | 21 | 22 | 23 | 24 | 25 | 26 | 27 | 28 | 29 | 30 | |
| Jul 2022 | 1 | 2 | 3 | 4 | 5 | 6 | 7 | 8 | 9 | 10 | 11 | 12 | 13 | 14 | 15 | 16 | 17 | 18 | 19 | 20 | 21 | 22 | 23 | 24 | 25 | 26 | 27 | 28 | 29 | 30 | 31 |
| Aug 2022 | 1 | 2 | 3 | 4 | 5 | 6 | 7 | 8 | 9 | 10 | 11 | 12 | 13 | 14 | 15 | 16 | 17 | 18 | 19 | 20 | 21 | 22 | 23 | 24 | 25 | 26 | 27 | 28 | 29 | 30 | 31 |
| Sep 2022 | 1 | 2 | 3 | 4 | 5 | 6 | 7 | 8 | 9 | 10 | 11 | 12 | 13 | 14 | 15 | 16 | 17 | 18 | 19 | 20 | 21 | 22 | 23 | 24 | 25 | 26 | 27 | 28 | 29 | 30 | |
| Oct 2022 | 1 | 2 | 3 | 4 | 5 | 6 | 7 | 8 | 9 | 10 | 11 | 12 | 13 | 14 | 15 | 16 | 17 | 18 | 19 | 20 | 21 | 22 | 23 | 24 | 25 | 26 | 27 | 28 | 29 | 30 | 31 |
| Nov 2022 | 1 | 2 | 3 | 4 | 5 | 6 | 7 | 8 | 9 | 10 | 11 | 12 | 13 | 14 | 15 | 16 | 17 | 18 | 19 | 20 | 21 | 22 | 23 | 24 | 25 | 26 | 27 | 28 | 29 | 30 | |
| Dec 2022 | 1 | 2 | 3 | 4 | 5 | 6 | 7 | 8 | 9 | 10 | 11 | 12 | 13 | 14 | 15 | 16 | 17 | 18 | 19 | 20 | 21 | 22 | 23 | 24 | 25 | 26 | 27 | 28 | 29 | 30 | 31 |
| Jan 2023 | 1 | 2 | 3 | 4 | 5 | 6 | 7 | 8 | 9 | 10 | 11 | 12 | 13 | 14 | 15 | 16 | 17 | 18 | 19 | 20 | 21 | 22 | 23 | 24 | 25 | 26 | 27 | 28 | 29 | 30 | 31 |
---