NICOLE EVELYN
$89,500 - $95,000 / WEEK
---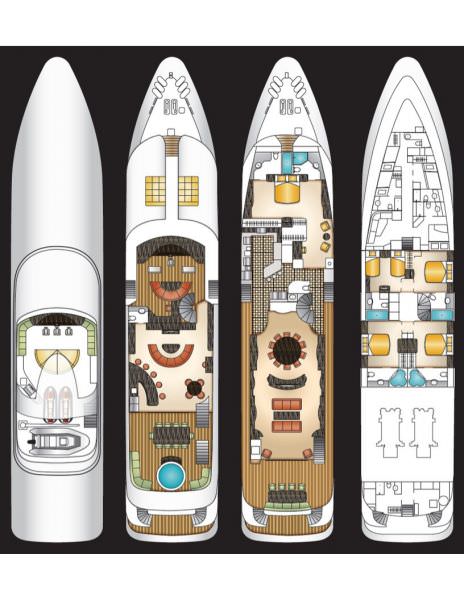 Boat Details
| | |
| --- | --- |
| Cabins: | 5 |
| Queen: | 1 |
| Single Cabins: | 1 |
| Showers: | - |
| Wash Basins: | - |
| Heads: | - |
| Electric Heads: | - |
Pick Up Locations
| | |
| --- | --- |
| Pref. Pick-up: | Nassau |
| Other Pick-up: | Harbour Island |
---
Details
| | |
| --- | --- |
| Refit: | 2013 |
| Helipad: | No |
| Jacuzzi: | Yes |
| A/C: | Full |
Engine Details
Engines: 2 x Caterpillar 3512B Gens: 2 x Northern Lights 65kW
Fuel Consumption:
100
Cruising Speed:
14 knots
Max Speed:
24 knotsUS Gall/Hr
Locations
| | |
| --- | --- |
| Winter Area: | Bahamas |
| Summer Area: | New England |
---
Amenities
Salon Tv/VCR:
Yes
Salon Stereo:
Yes
Sat Tv:
VSAT
Mini M Sat phone
Internal Panasonic PBX System

# of Videos:
Array
# DVDs/Movies:
-
# CD's:
-
Camcorder:
-
Books:
-
Board Games:
-
Sun Awning:
-
Deck Shower:
-
Bimini:
-
Water Maker:
-
| | |
| --- | --- |
| Special Diets: | Inq |
| Kosher: | Inq |
| BBQ: | Yes |
| # Dine In: | - |
| Minimum Age: | - |
| Generator: | - |
| Inverter: | - |
| Voltages: | - |
| Water Maker: | - |
| Water Cap: | - |
| Ice Maker: | Yes |
| Sailing Instructions: | - |
| Internet Access: | Onboard WIFI |
| | |
| --- | --- |
| Gay Charters: | Inq |
| Nude: | Inq |
| Hairdryers: | - |
| # Port Hatches: | - |
| Guests Smokes: | - |
| Crew Smokes: | Inq |
| Pets Aboard: | No |
| Pet Type: | - |
| Guest Pets: | No |
| Children Ok: | - |
| Hammock: | - |
| Windscoops: | - |
---
Water Sports
| | |
| --- | --- |
| Dinghy size: | 34' Hydra Sport |
| Dinghy hp: | 3x300HP |
| Dinghy # pax: | - |
| Water Skis Adult: | Yes |
| Water Skis Kids: | - |
| Jet Skis: | - |
| Wave Runners: | 2 |
| Kneeboard: | No |
| Windsurfer: | - |
| Snorkel Gear: | 10 |
| Tube: | Yes |
| | |
| --- | --- |
| Scurfer: | - |
| Wake Board: | Yes |
| Kayaks 1 Pax: | - |
| Kayaks (2 Pax): | - |
| Floating Mats: | - |
| Swim Platform: | - |
| Boarding Ladder (Loc/Type): | - |
| Sailing Dinghy: | - |
| Beach Games: | Yes |
| Fishing Gear: | - |
| Gear Type: | - |
| Rods: | - |
Captain – Bill Hudek

Bill Hudek was born and raised in Pocahontas, Iowa. He graduated from Buena Vista University with a degree in Corporate Communication in 1988 and soon moved to Florida after graduation. He worked in Hotels in Naples FL for a few years then started in yachting 22 years ago and has never had another profession. Bill has worked on boats large and small and holds a USCG 1600 ton Master Oceans license and a Dive Master Certification, he has worked on both Private and Charter boats. Bill enjoys keeping physically fit and enjoys bike riding, paddle boarding and swimming.

He met his lovely wife Louise in St Maarten on a long layover and the two have been married for ten years and have a beautiful Shar-Pei dog named Lotus. Louise is a Master of Oriental Medicine. They reside in North Palm Beach, Florida. He also hosts Karaoke night on board and has been known to do a Sinatra song when asked.

First Mate – Reece Oosthyuzen
Reece is a water sports enthusiast who was raised in Cape Town, South Africa. His love for the ocean and the inspiration from his father being an electrical engineer on Navy submarines brought him into the professional yachting industry. Reece Studied Economics and Psychology and soon after began working on Yachts. He has worked in a variety of roles since he joined the industry and is continually looking for new challenges and opportunities to gain knowledge and experience. He has been surrounded by the ocean since he was born and has been in the Yachting industry for nearly 4 years. His passions include surfing, kiteboarding, freediving, scuba diving and spearfishing.

Chef - Jonas Hägg

Jonas completed his culinary training in Gothenburg, Sweden in 1988 and after an additional year as an apprentice, studying under Chef Dieter Ebeling, he embarked on his professional career. He became the youngest Executive Chef in the region, beginning at Restaurant "Punch". Haag also served his country as sergeant in the National Service Training Academy. After a while, he ventured into the yachting world with a contract in the Med, cooking for Ivana Trump on the M/Y Ivana. He continued in yachting for many years, catering privately to clients like Rod Stewart, Roger Moore and Saudi Royalty. My first food memory is "growing up on the west coast of Sweden (Gothenburg)," Haag said. "I remember fresh seafood straight from the fishermen at the dock as they landed. We used to have butter-fried oysters on toast for breakfast like other children would get cereal."

"I'm living my dream! I'm blessed with the opportunity to work with the best ingredients & cooking for the most discerning palates" – he says about his passion for cooking. He is married to Maria, and has two young girls.


Chief Stewardess – Richelle Saylo

Richelle was born and raised in the Philippines. She has been in yachting industry for over 9 years and has enjoyed travelling the seas of the Mediterranean, Baltic, Adriatic and the Caribbean. She has a passion for both food and travel and has been lucky enough to explore many different countries, enjoying international cuisines giving her ideas for the hotel and restaurant business she one day dreams of opening. She enjoys scuba diving, snorkeling, camping, hiking, sketching, dancing and singing. Richelle loves fashion, photography and the arts. For Richelle, being in the yachting industry is an excellent way to do of all the things she loves.


2nd Stewardess – Lara Spotts
A native of Florida, Lara has also spent time living in Philadelphia. Lara grew up acting and is a musical theatre enthusiast. She also has a love for aviation and hopes to one day get her pilots license and eventually getting a degree in Aviation Management. Lara previously worked with a Ferrari dealership feeding her admiration for sports cars but alas it could not deter the "travel bug." Taking many family cruises growing up, Lara loves to travel to new places which drew her to working aboard yachts. She very much looks forward to her time aboard Nicole Evelyn and is excited about the opportunities it presents. Hobbies of hers include singing, sketching, yoga and snorkeling.


Deckhand – Dirk-Wouter Bester

Dirk is from Wellington South Africa on the Western Cape. He has worked in the yachting industry for 4 years aboard 2 boats. He began his career when friends introduced him to the business so that he could make the money to fix his car. Since then, Dirk has travelled the Mediterranean, United States and the Bahamas. He is a quick learner and a hard worker and hopes to one day become an Engineer. His hobbies include biking and surfing but his real love is restoring his 7 cars that he keeps back home.


Engineer – Kris Signs
Born in Sonoma County California, attending El Molino High in Forestville. At a young age Kris worked on cars with his Grandfather, leading him to pursue a mechanical career. He started off working on small engines at a rental yard before moving up to heavy construction equipment. Kris eventually moved to Florida where became a yacht engineer. For the last six years Kris has worked hard coming up through the engineering ranks and takes pride in keeping his vessels running smoothly. He has traveled aboard yachts in the US, Bahamas, Caribbean, South Pacific and Mediterranean. Kris is looking forward to working aboard Nicole Evelyn.

(15 December -30 April)
Bahamas
(1 May - 14 December)
New England
| | | | | | | | | | | | | | | | | | | | | | | | | | | | | | | | |
| --- | --- | --- | --- | --- | --- | --- | --- | --- | --- | --- | --- | --- | --- | --- | --- | --- | --- | --- | --- | --- | --- | --- | --- | --- | --- | --- | --- | --- | --- | --- | --- |
| Jul 2019 | 1 | 2 | 3 | 4 | 5 | 6 | 7 | 8 | 9 | 10 | 11 | 12 | 13 | 14 | 15 | 16 | 17 | 18 | 19 | 20 | 21 | 22 | 23 | 24 | 25 | 26 | 27 | 28 | 29 | 30 | 31 |
| Aug 2019 | 1 | 2 | 3 | 4 | 5 | 6 | 7 | 8 | 9 | 10 | 11 | 12 | 13 | 14 | 15 | 16 | 17 | 18 | 19 | 20 | 21 | 22 | 23 | 24 | 25 | 26 | 27 | 28 | 29 | 30 | 31 |
| Sep 2019 | 1 | 2 | 3 | 4 | 5 | 6 | 7 | 8 | 9 | 10 | 11 | 12 | 13 | 14 | 15 | 16 | 17 | 18 | 19 | 20 | 21 | 22 | 23 | 24 | 25 | 26 | 27 | 28 | 29 | 30 | |
| Oct 2019 | 1 | 2 | 3 | 4 | 5 | 6 | 7 | 8 | 9 | 10 | 11 | 12 | 13 | 14 | 15 | 16 | 17 | 18 | 19 | 20 | 21 | 22 | 23 | 24 | 25 | 26 | 27 | 28 | 29 | 30 | 31 |
| Nov 2019 | 1 | 2 | 3 | 4 | 5 | 6 | 7 | 8 | 9 | 10 | 11 | 12 | 13 | 14 | 15 | 16 | 17 | 18 | 19 | 20 | 21 | 22 | 23 | 24 | 25 | 26 | 27 | 28 | 29 | 30 | |
| Dec 2019 | 1 | 2 | 3 | 4 | 5 | 6 | 7 | 8 | 9 | 10 | 11 | 12 | 13 | 14 | 15 | 16 | 17 | 18 | 19 | 20 | 21 | 22 | 23 | 24 | 25 | 26 | 27 | 28 | 29 | 30 | 31 |
| Jan 2020 | 1 | 2 | 3 | 4 | 5 | 6 | 7 | 8 | 9 | 10 | 11 | 12 | 13 | 14 | 15 | 16 | 17 | 18 | 19 | 20 | 21 | 22 | 23 | 24 | 25 | 26 | 27 | 28 | 29 | 30 | 31 |
| Feb 2020 | 1 | 2 | 3 | 4 | 5 | 6 | 7 | 8 | 9 | 10 | 11 | 12 | 13 | 14 | 15 | 16 | 17 | 18 | 19 | 20 | 21 | 22 | 23 | 24 | 25 | 26 | 27 | 28 | 29 | | |
| Mar 2020 | 1 | 2 | 3 | 4 | 5 | 6 | 7 | 8 | 9 | 10 | 11 | 12 | 13 | 14 | 15 | 16 | 17 | 18 | 19 | 20 | 21 | 22 | 23 | 24 | 25 | 26 | 27 | 28 | 29 | 30 | 31 |
| Apr 2020 | 1 | 2 | 3 | 4 | 5 | 6 | 7 | 8 | 9 | 10 | 11 | 12 | 13 | 14 | 15 | 16 | 17 | 18 | 19 | 20 | 21 | 22 | 23 | 24 | 25 | 26 | 27 | 28 | 29 | 30 | |
| May 2020 | 1 | 2 | 3 | 4 | 5 | 6 | 7 | 8 | 9 | 10 | 11 | 12 | 13 | 14 | 15 | 16 | 17 | 18 | 19 | 20 | 21 | 22 | 23 | 24 | 25 | 26 | 27 | 28 | 29 | 30 | 31 |
| Jun 2020 | 1 | 2 | 3 | 4 | 5 | 6 | 7 | 8 | 9 | 10 | 11 | 12 | 13 | 14 | 15 | 16 | 17 | 18 | 19 | 20 | 21 | 22 | 23 | 24 | 25 | 26 | 27 | 28 | 29 | 30 | |
---