CLAIRE
$139,500 - $150,000 / WEEK
---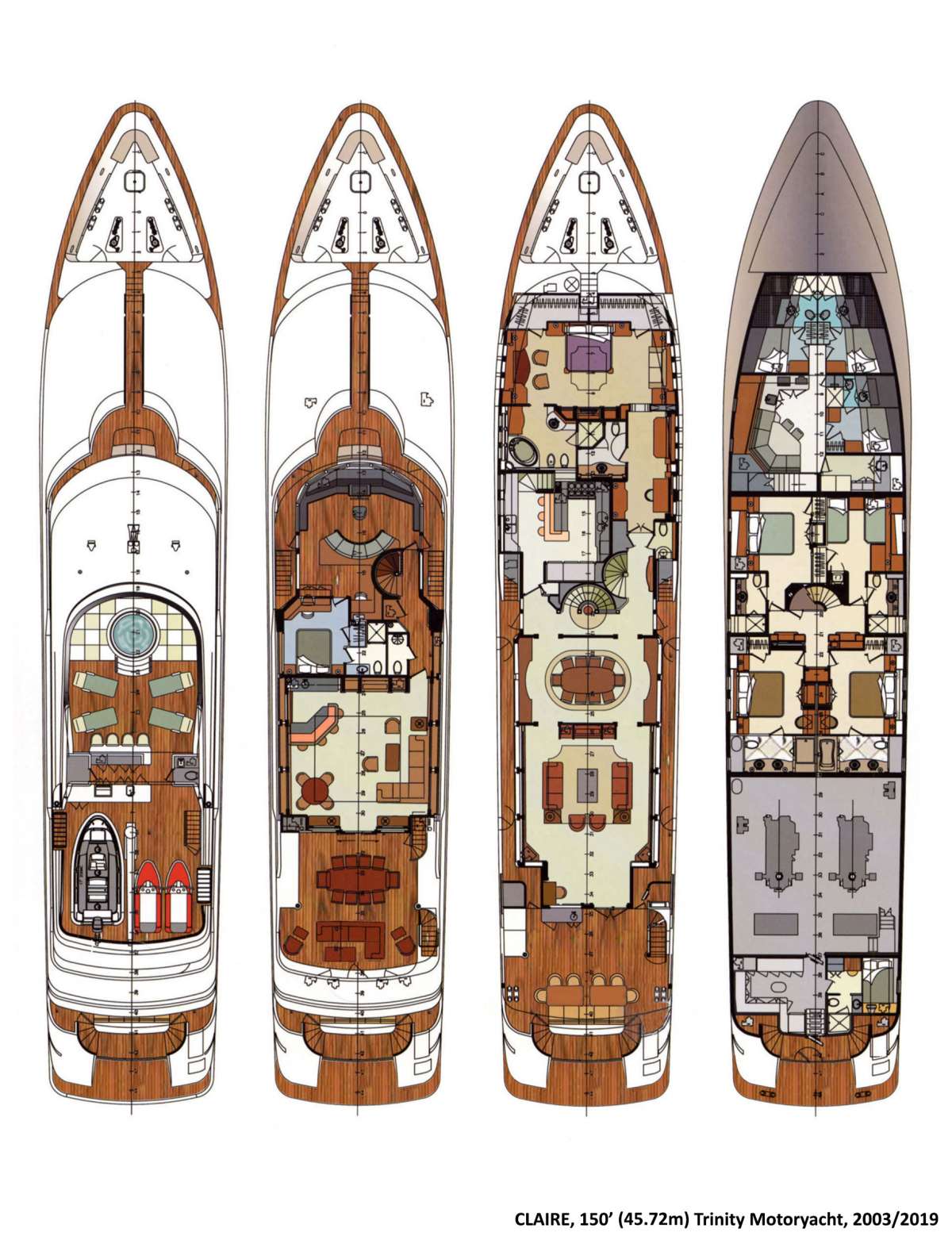 Boat Details
| | |
| --- | --- |
| Cabins: | 5 |
| Queen: | - |
| Single Cabins: | 1 |
| Showers: | - |
| Wash Basins: | - |
| Heads: | - |
| Electric Heads: | - |
Pick Up Locations
| | |
| --- | --- |
| Pref. Pick-up: | - |
| Other Pick-up: | - |
---
Details
| | |
| --- | --- |
| Refit: | 2018 |
| Helipad: | No |
| Jacuzzi: | Yes |
| A/C: | Full |
Engine Details
Engines: (2) Caterpillar 3512B diesels @ 2,250hp each Generators: (2) 99 kW Kilpak
Fuel Consumption:
86
Cruising Speed:
18 knots
Max Speed:
21.5 knotsUS Gall/Hr
Locations
| | |
| --- | --- |
| Winter Area: | Bahamas, Florida |
| Summer Area: | Bahamas, New England, Florida |
---
Amenities
Salon Tv/VCR:
-
Salon Stereo:
-
Sat Tv:
• Kaleidoscope A/V system on demand
• (4) 21" flat panel multi-system (Staterooms)
• (2) 42" Plasma multi-system (Main Salon, Sky Lounge)
• 32" Plasma multi-system (Master)
• (10) DV 353 Pioneer DVD players (All guest and common areas)
• SLV-ED 100 ME Sony multi-system (Master)
• 42" Flat screen TV (Main Deck, Bridge Deck Aft)
• 32" Flat screen TV (Sun Deck)
• I-Pod connection in all A.V.

• Fleet 77 SAT COM
• Panasonic telephone system
• Furuno SSB
• Furuno VHF
• Nokia cellular phone system
• Panasonic intercom
• Wireless Internet throughout 24/7
# of Videos:
-
# DVDs/Movies:
-
# CD's:
-
Camcorder:
-
Books:
-
Board Games:
-
Sun Awning:
-
Deck Shower:
-
Bimini:
-
Water Maker:
-
| | |
| --- | --- |
| Special Diets: | Inq |
| Kosher: | Inq |
| BBQ: | - |
| # Dine In: | - |
| Minimum Age: | - |
| Generator: | - |
| Inverter: | - |
| Voltages: | - |
| Water Maker: | - |
| Water Cap: | - |
| Ice Maker: | - |
| Sailing Instructions: | - |
| Internet Access: | - |
| | |
| --- | --- |
| Gay Charters: | Inq |
| Nude: | Inq |
| Hairdryers: | - |
| # Port Hatches: | - |
| Guests Smokes: | - |
| Crew Smokes: | Inq |
| Pets Aboard: | No |
| Pet Type: | - |
| Guest Pets: | - |
| Children Ok: | - |
| Hammock: | - |
| Windscoops: | - |
---
Water Sports
| | |
| --- | --- |
| Dinghy size: | - |
| Dinghy hp: | - |
| Dinghy # pax: | - |
| Water Skis Adult: | Yes |
| Water Skis Kids: | Yes |
| Jet Skis: | - |
| Wave Runners: | Yes |
| Kneeboard: | Yes |
| Windsurfer: | - |
| Snorkel Gear: | Yes |
| Tube: | Yes |
| | |
| --- | --- |
| Scurfer: | - |
| Wake Board: | Yes |
| Kayaks 1 Pax: | No |
| Kayaks (2 Pax): | Yes |
| Floating Mats: | Yes |
| Swim Platform: | - |
| Boarding Ladder (Loc/Type): | - |
| Sailing Dinghy: | - |
| Beach Games: | Yes |
| Fishing Gear: | Yes |
| Gear Type: | - |
| Rods: | - |
CAPTAIN COLIN KEARNEY | IRELAND
Colin has been working professionally for the past 20 years with experience as captain and chief officer on such yachts as DOUBLE DOWN 65m Codecasa, CHOPI CHOPI 80m CRN, and MINE GAMES 50m Trinity. Starting from an early age while growing up in Ireland, he has had a passion for competitive sailing, windsurfing and fishing that has greatly contributed to his love of the sea. A natural leader, confident and professional, Colin's extensive charter experience in the Mediterranean, Caribbean and the Bahamas is invaluable. In his spare time Colin enjoys sailing, photography and Kite surfing. Captain Colin has a big smile and a positive can-do attitude, delivering the most comfortable and pleasurable trips for the most demanding guests.

CHEF JOSH LEGASPI | PHILLIPPINES
Originally from the Philippines, Chef Josh has worked for over 20 years on both private and charter yachts ranging from 30 to 70 meters worldwide. His culinary specialties are fusion, healthy Mediterranean, and vegetarian.

CHIEF OFFICER JON DEYOUNG | USA
Growing up in Michigan surrounded by the Great Lakes, Jon has a natural love of the water. So, after earning his BA from Michigan State University, he pursued a career in the yachting industry. Having spent 20 years traveling the world he has worked on several 50-60 meter superyachts including ENTERPRISE V, PRINCESS MARLA, ALTITUDE, LADY LINDA, and MY SEANNA. Jon strives to deliver a great charter, leaving the guests with great memories for years to come. He enjoys college sports, reading, golf and spending time at his lake house in Michigan.

CHIEF ENGINEER ANDRE CAIXETA | BRAZIL / USA
Andre grow up in Brazil and served with the Brazilian Navy, plus Governors Body Guard before he moved to the United States 19 years ago. Living in Florida, he started working on luxury yachts and various dive charter boats, after being invited on a diving trip to the Bahamas. Andre's passion for Scuba diving lead him to manage dive shops and work on diving vessels, but over the past seven years he has concentrated more on Marine Engineering which lead him to gaining an engineers license allowing him to work on large professionally run motor yachts. In his time away from yachts, Andre spends time with his family in Florida and still enjoys his scuba diving with sharks, a little sky diving, hiking, plus cycling.

STEWARDESS CAI GAVIOLA | PHILLIPPINES
Born and raised in the Philippines, Cai graduated hotel and restaurant management school, and start her career at the Mandarin Oriental Hotel right soon after. Cai has an extensive hospitality and customer service background. She has previously worked on AZTECA, SHERAKHAN, SALUZI and O'PARI, and has sailed the Mediterranean, East and West Coast of America, Canada, Mexico, Caribbean, and South East Asia. Cai loves travelling, studying, meeting new people and getting new life's perspective. She is a very organized, outgoing, cheerful, and adventurous person and is always ready to serve with big smile.

BOSUN DARIO FERGUSON | BAHAMAS
Coming from the chain of islands known for its sun, sand, and sea – the Bahamas – Dario grew up spending all his summers snorkeling, spearfishing, and exploring the ocean on a small boat. Having always had a passion for the water as a child, he would fantasize about the super yachts as they passed by, and said to himself that one day he too, would be a captain, and is now on that journey. Because of his history as a lifeguard and first-responder paramedic, Dario values safety, and it carries through aboard the yacht. With four years of experience at a five-star luxury resort, as well as 2 years as a deckhand, Dario has a friendly, outgoing personality, and ensures premium service aboard CLAIRE.

DECKHAND NOEL NERI | PHILIPPINES
Noel hails from the Philippines and has worked at sea for most of his life! He has worked all around the world on commercial ships before venturing into the world of superyachts. Back at home, he loves to fish and he has taken that love with him to the high seas. Despite his love for the water, Noel still manages to spend time doing what he loves in the Philippines - farming! He has a dragon fruit farm and breeds chickens. With an infectious smile and a warm personality, Noel is looking forward to helping you enjoy yourself to the fullest on the water.

PURSER CRICELIA LEAL| PHILIPPINES
Cricelia has over 20 years of experience having worked on various size luxury yachts ranging from 30 to 70 meters. Cricelia's the first priority is the comfort of all guests and to create a welcoming and delightful charter experience.



(15 December -30 April)
Bahamas, Florida
(1 May - 14 December)
Bahamas, New England, Florida
| | | | | | | | | | | | | | | | | | | | | | | | | | | | | | | | |
| --- | --- | --- | --- | --- | --- | --- | --- | --- | --- | --- | --- | --- | --- | --- | --- | --- | --- | --- | --- | --- | --- | --- | --- | --- | --- | --- | --- | --- | --- | --- | --- |
| Apr 2019 | 1 | 2 | 3 | 4 | 5 | 6 | 7 | 8 | 9 | 10 | 11 | 12 | 13 | 14 | 15 | 16 | 17 | 18 | 19 | 20 | 21 | 22 | 23 | 24 | 25 | 26 | 27 | 28 | 29 | 30 | |
| May 2019 | 1 | 2 | 3 | 4 | 5 | 6 | 7 | 8 | 9 | 10 | 11 | 12 | 13 | 14 | 15 | 16 | 17 | 18 | 19 | 20 | 21 | 22 | 23 | 24 | 25 | 26 | 27 | 28 | 29 | 30 | 31 |
| Jun 2019 | 1 | 2 | 3 | 4 | 5 | 6 | 7 | 8 | 9 | 10 | 11 | 12 | 13 | 14 | 15 | 16 | 17 | 18 | 19 | 20 | 21 | 22 | 23 | 24 | 25 | 26 | 27 | 28 | 29 | 30 | |
| Jul 2019 | 1 | 2 | 3 | 4 | 5 | 6 | 7 | 8 | 9 | 10 | 11 | 12 | 13 | 14 | 15 | 16 | 17 | 18 | 19 | 20 | 21 | 22 | 23 | 24 | 25 | 26 | 27 | 28 | 29 | 30 | 31 |
| Aug 2019 | 1 | 2 | 3 | 4 | 5 | 6 | 7 | 8 | 9 | 10 | 11 | 12 | 13 | 14 | 15 | 16 | 17 | 18 | 19 | 20 | 21 | 22 | 23 | 24 | 25 | 26 | 27 | 28 | 29 | 30 | 31 |
| Sep 2019 | 1 | 2 | 3 | 4 | 5 | 6 | 7 | 8 | 9 | 10 | 11 | 12 | 13 | 14 | 15 | 16 | 17 | 18 | 19 | 20 | 21 | 22 | 23 | 24 | 25 | 26 | 27 | 28 | 29 | 30 | |
| Oct 2019 | 1 | 2 | 3 | 4 | 5 | 6 | 7 | 8 | 9 | 10 | 11 | 12 | 13 | 14 | 15 | 16 | 17 | 18 | 19 | 20 | 21 | 22 | 23 | 24 | 25 | 26 | 27 | 28 | 29 | 30 | 31 |
| Nov 2019 | 1 | 2 | 3 | 4 | 5 | 6 | 7 | 8 | 9 | 10 | 11 | 12 | 13 | 14 | 15 | 16 | 17 | 18 | 19 | 20 | 21 | 22 | 23 | 24 | 25 | 26 | 27 | 28 | 29 | 30 | |
| Dec 2019 | 1 | 2 | 3 | 4 | 5 | 6 | 7 | 8 | 9 | 10 | 11 | 12 | 13 | 14 | 15 | 16 | 17 | 18 | 19 | 20 | 21 | 22 | 23 | 24 | 25 | 26 | 27 | 28 | 29 | 30 | 31 |
| Jan 2020 | 1 | 2 | 3 | 4 | 5 | 6 | 7 | 8 | 9 | 10 | 11 | 12 | 13 | 14 | 15 | 16 | 17 | 18 | 19 | 20 | 21 | 22 | 23 | 24 | 25 | 26 | 27 | 28 | 29 | 30 | 31 |
| Feb 2020 | 1 | 2 | 3 | 4 | 5 | 6 | 7 | 8 | 9 | 10 | 11 | 12 | 13 | 14 | 15 | 16 | 17 | 18 | 19 | 20 | 21 | 22 | 23 | 24 | 25 | 26 | 27 | 28 | 29 | | |
| Mar 2020 | 1 | 2 | 3 | 4 | 5 | 6 | 7 | 8 | 9 | 10 | 11 | 12 | 13 | 14 | 15 | 16 | 17 | 18 | 19 | 20 | 21 | 22 | 23 | 24 | 25 | 26 | 27 | 28 | 29 | 30 | 31 |
---