TAIL LIGHTS
$75,000 - $85,000 / WEEK
---
Boat Details
| | |
| --- | --- |
| Cabins: | 5 |
| Queen: | 2 |
| Single Cabins: | 1 |
| Showers: | 6 |
| Wash Basins: | - |
| Heads: | 7 |
| Electric Heads: | - |
Pick Up Locations
| | |
| --- | --- |
| Pref. Pick-up: | Nassau |
| Other Pick-up: | St Thomas |
---
Details
| | |
| --- | --- |
| Refit: | 2016 |
| Helipad: | No |
| Jacuzzi: | Yes |
| A/C: | Full |
Engine Details
Twin MTU 16V 2000 M93 HP Diesel Engines TRAC Zero Speed Stabilizers 2x Kohler Generators 65kw
Fuel Consumption:
80
Cruising Speed:
16
Max Speed:
22US Gall/Hr
Locations
| | |
| --- | --- |
| Winter Area: | Caribbean Virgin Islands, Caribbean Leewards, Caribbean Windwards |
| Summer Area: | Bahamas, USA - Florida |
---
Amenities
Salon Tv/VCR:
Yes
Salon Stereo:
Yes
Sat Tv:
Audio Visual Equipment and Deck Facilities:
RTI (similar to Creston) Audio/Visual system with iPad controls
Airplay sound system throughout for Apple products or Airplay app on other devices
Apple TV in all rooms and outside
TV/DVD/Blu Ray/CD players in all cabins, salon and media room
Satellite TV available for Caribbean
Large TV bridge deck and aft deck
Wireless speakers for blue tooth music on the beach
Wifi Catcher - (Available at dock or within range of cell phone signal towers) in the Bahamas.

While at anchor, or underway the vessel also has an advanced cellular system capable of producing high speed LTE internet.
This is charged at $12 per giga byte (usage request available).

Optional Wifi Services:

Internet service can be doubled up to get aggregated traffic and higher bandwidth. TAIL LIGHTS has 6 Cell antennas providing great coverage. The yacht is equipped with top of the line Aeigon WIFI catcher for dock wifi.
# of Videos:
-
# DVDs/Movies:
-
# CD's:
-
Camcorder:
No
Books:
-
Board Games:
Yes
Sun Awning:
-
Deck Shower:
Yes
Bimini:
-
Water Maker:
-
| | |
| --- | --- |
| Special Diets: | Inq |
| Kosher: | Inq |
| BBQ: | Yes |
| # Dine In: | - |
| Minimum Age: | - |
| Generator: | - |
| Inverter: | - |
| Voltages: | - |
| Water Maker: | - |
| Water Cap: | - |
| Ice Maker: | Yes |
| Sailing Instructions: | - |
| Internet Access: | - |
| | |
| --- | --- |
| Gay Charters: | Inq |
| Nude: | No |
| Hairdryers: | Yes |
| # Port Hatches: | - |
| Guests Smokes: | - |
| Crew Smokes: | No |
| Pets Aboard: | No |
| Pet Type: | - |
| Guest Pets: | Yes |
| Children Ok: | Yes |
| Hammock: | No |
| Windscoops: | - |
---
Water Sports
| | |
| --- | --- |
| Dinghy size: | - |
| Dinghy hp: | - |
| Dinghy # pax: | - |
| Water Skis Adult: | Yes |
| Water Skis Kids: | Yes |
| Jet Skis: | - |
| Wave Runners: | 1 |
| Kneeboard: | 1 |
| Windsurfer: | - |
| Snorkel Gear: | Yes |
| Tube: | Yes |
| | |
| --- | --- |
| Scurfer: | - |
| Wake Board: | 1 |
| Kayaks 1 Pax: | No |
| Kayaks (2 Pax): | - |
| Floating Mats: | Yes |
| Swim Platform: | Yes |
| Boarding Ladder (Loc/Type): | Passerelle Stern To |
| Sailing Dinghy: | - |
| Beach Games: | Yes |
| Fishing Gear: | Yes |
| Gear Type: | Trolling & Deep Sea |
| Rods: | - |
Captain - Sean Kampfer

Born and raised on Long Island NY, Captain Sean joined the boating scene at a young age. Beginning with his parent's boats and restoring an old sailing boat of his own he eventually began running water taxis and mid-size passenger vessels to the city. Falling hard for yachting one summer after joining a busy charter yacht in New England he has not looked back. Sean is a hands-on captain who takes great pride in any vessel or program he runs. He is guest satisfaction oriented and aims to make your time aboard TAIL LIGHTS a fantastic and memorable one! Sean is a licensed pilot and in his spare time you might find him sailing, flying, paddle boarding, golfing, and spending plenty of time at the beach. Previous yachts: SEAFARER, JOPAJU, ENDEVOUR, SERENITY, FRISKY LADY

Chef Thomas - Day III

Chef Tom hails from Philadelphia, who at the early age of 15 got his start in the hospitality industry. Tom found his passion in the kitchen and studied Culinary and Baking at the Art Institute of Philadelphia. They honored Tom with an Outstanding Achievement Award and a Presidential Scholarship. After years as an Executive Chef in some of Philly's busiest top restaurants, he transitioned into yachting to share his delicious creations on a more personal level as a private chef. Tom puts his heart and dedication into his food and thrives on that simple sigh, smile, or filled belly from our charter guests aboard TAIL LIGHTS.

Chief Stewardess - Dakota Dance

Dakota Dance was born in Honolulu, Hawaii. Her family settled down in the very vibrant city of New Orleans when she was 11 years old. When Dakota started college she began working at Brennan's, a 5 star restaurants in the heart of the French Quarter. That is where she found a love for service. She Immediately changed her major from Business Marketing to Hospitality. When Dakota was introduced to the yachting industry she knew it would be a great way to put her two loves for traveling and hospitality together. She has been in yachting for 5 years and has traveled the Caribbean islands, the Bahamas, French Polynesia, and Europe loving every minute of it! She has worked on some well known boats such as Just Enough, Party Girl, My Seanna, Gene Machine, Vixit, and My Girl. and She is thrilled to be apart of the Tail Lights crew and looks forward to the journey that lies ahead.

2nd Stewardess – Jenny McCoy

Jenny McCoy was born in Waterbury, Connecticut. After graduating Loyola university of New Orleans, she moved to New York City where she spent three years living in Brooklyn while working in the start up realm of insurance. With a love of travel, food, and entertaining the 9 to 5 insurance gig was no longer cutting it. Jenny found a place to let her true talents shine aboard the exciting charter yacht TAIL LIGHTS. Here she is delighted to share her talents of cocktails and exploring with guests of all ages. From sunrise yoga in the morning, to after hour drinks and snacks, Jenny is ready to make sure you are at peace with the world and having an amazing time!

1st Mate - Christopher Grandmaison

Chris found his love for the ocean at an early age after taking frequent trips off the California coast on his father's fishing boat. He grew up in San Diego enjoying boating, surfing, and diving. After graduating from college, his thirst for travel and love for the ocean has led him to a career in yachting. Chris's 15 years in the hospitality industry and 6 seasons working on yachts has prepared him to help create unforgettable experiences while aboard TAIL LIGHTS. When not out on the water, Chris enjoys snowboarding, playing hockey, and photography.

Engineer - Rich Di Giulio

Rich was born in Rhode Island. He has lived as far inland as Indiana as a coal miner, but the call of the ocean was too strong. Rich returned to the sea in the yachting industry. Rich has a knack for fixing things and is passionate about personal growth. He is an avid traveler and has traveled throughout the Caribbean, crossed the Atlantic, and stayed in the Mediterranean for ten years. When not performing engineering duties on TAIL LIGHTS we can find Rich in the crew mess folding napkins and/or making towel animals. In his spare time off the yacht, he loves to play with his daughter, take photos, and fly his drone. Rich also enjoys working out.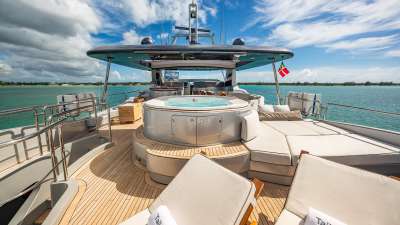 (15 December -30 April)
Caribbean Virgin Islands, Caribbean Leewards, Caribbean Windwards
(1 May - 14 December)
Bahamas, USA - Florida
| | | | | | | | | | | | | | | | | | | | | | | | | | | | | | | | |
| --- | --- | --- | --- | --- | --- | --- | --- | --- | --- | --- | --- | --- | --- | --- | --- | --- | --- | --- | --- | --- | --- | --- | --- | --- | --- | --- | --- | --- | --- | --- | --- |
| Jan 2022 | 1 | 2 | 3 | 4 | 5 | 6 | 7 | 8 | 9 | 10 | 11 | 12 | 13 | 14 | 15 | 16 | 17 | 18 | 19 | 20 | 21 | 22 | 23 | 24 | 25 | 26 | 27 | 28 | 29 | 30 | 31 |
| Feb 2022 | 1 | 2 | 3 | 4 | 5 | 6 | 7 | 8 | 9 | 10 | 11 | 12 | 13 | 14 | 15 | 16 | 17 | 18 | 19 | 20 | 21 | 22 | 23 | 24 | 25 | 26 | 27 | 28 | | | |
| Mar 2022 | 1 | 2 | 3 | 4 | 5 | 6 | 7 | 8 | 9 | 10 | 11 | 12 | 13 | 14 | 15 | 16 | 17 | 18 | 19 | 20 | 21 | 22 | 23 | 24 | 25 | 26 | 27 | 28 | 29 | 30 | 31 |
| Apr 2022 | 1 | 2 | 3 | 4 | 5 | 6 | 7 | 8 | 9 | 10 | 11 | 12 | 13 | 14 | 15 | 16 | 17 | 18 | 19 | 20 | 21 | 22 | 23 | 24 | 25 | 26 | 27 | 28 | 29 | 30 | |
| May 2022 | 1 | 2 | 3 | 4 | 5 | 6 | 7 | 8 | 9 | 10 | 11 | 12 | 13 | 14 | 15 | 16 | 17 | 18 | 19 | 20 | 21 | 22 | 23 | 24 | 25 | 26 | 27 | 28 | 29 | 30 | 31 |
| Jun 2022 | 1 | 2 | 3 | 4 | 5 | 6 | 7 | 8 | 9 | 10 | 11 | 12 | 13 | 14 | 15 | 16 | 17 | 18 | 19 | 20 | 21 | 22 | 23 | 24 | 25 | 26 | 27 | 28 | 29 | 30 | |
| Jul 2022 | 1 | 2 | 3 | 4 | 5 | 6 | 7 | 8 | 9 | 10 | 11 | 12 | 13 | 14 | 15 | 16 | 17 | 18 | 19 | 20 | 21 | 22 | 23 | 24 | 25 | 26 | 27 | 28 | 29 | 30 | 31 |
| Aug 2022 | 1 | 2 | 3 | 4 | 5 | 6 | 7 | 8 | 9 | 10 | 11 | 12 | 13 | 14 | 15 | 16 | 17 | 18 | 19 | 20 | 21 | 22 | 23 | 24 | 25 | 26 | 27 | 28 | 29 | 30 | 31 |
| Sep 2022 | 1 | 2 | 3 | 4 | 5 | 6 | 7 | 8 | 9 | 10 | 11 | 12 | 13 | 14 | 15 | 16 | 17 | 18 | 19 | 20 | 21 | 22 | 23 | 24 | 25 | 26 | 27 | 28 | 29 | 30 | |
| Oct 2022 | 1 | 2 | 3 | 4 | 5 | 6 | 7 | 8 | 9 | 10 | 11 | 12 | 13 | 14 | 15 | 16 | 17 | 18 | 19 | 20 | 21 | 22 | 23 | 24 | 25 | 26 | 27 | 28 | 29 | 30 | 31 |
| Nov 2022 | 1 | 2 | 3 | 4 | 5 | 6 | 7 | 8 | 9 | 10 | 11 | 12 | 13 | 14 | 15 | 16 | 17 | 18 | 19 | 20 | 21 | 22 | 23 | 24 | 25 | 26 | 27 | 28 | 29 | 30 | |
| Dec 2022 | 1 | 2 | 3 | 4 | 5 | 6 | 7 | 8 | 9 | 10 | 11 | 12 | 13 | 14 | 15 | 16 | 17 | 18 | 19 | 20 | 21 | 22 | 23 | 24 | 25 | 26 | 27 | 28 | 29 | 30 | 31 |
---