DB9
$250,000 - $275,000 / WEEK
---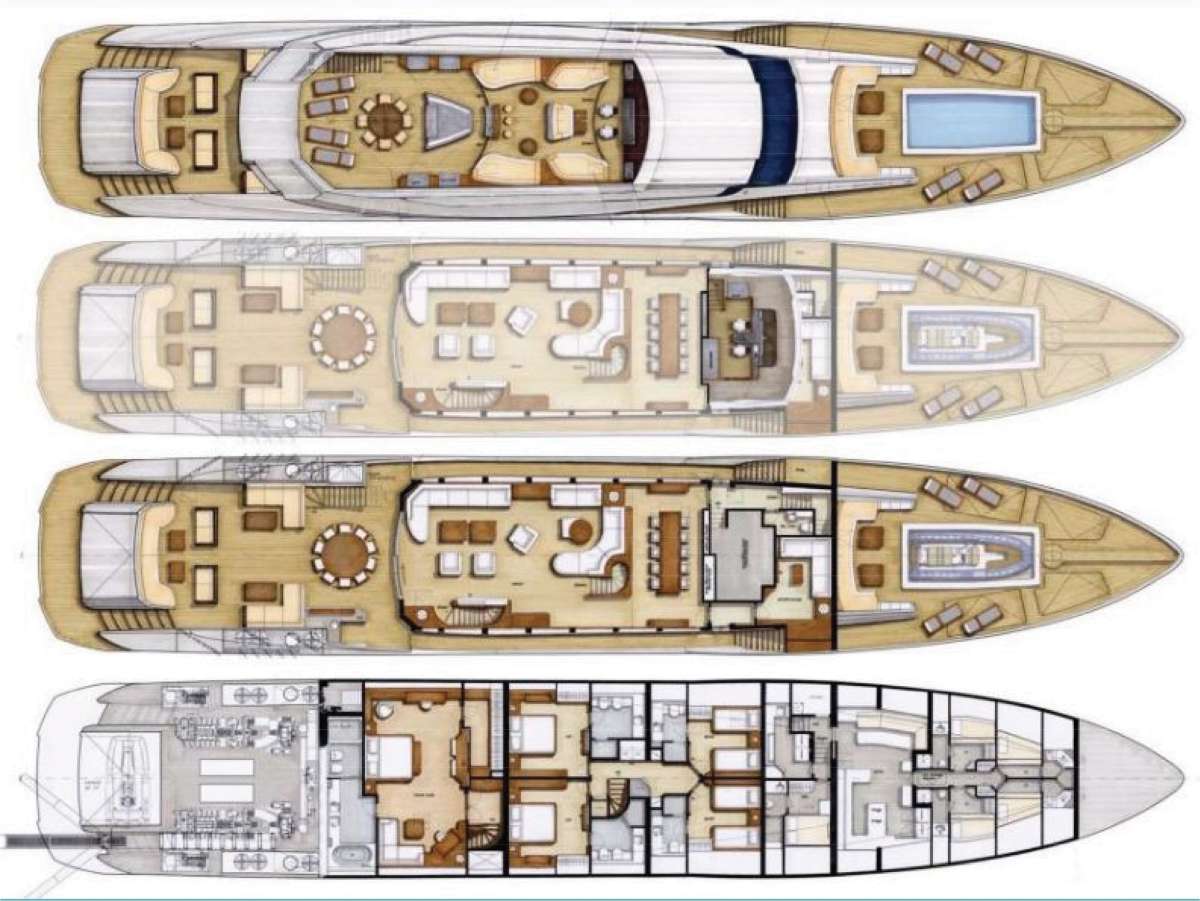 Boat Details
| | |
| --- | --- |
| Cabins: | 5 |
| Queen: | 2 |
| Single Cabins: | 1 |
| Showers: | - |
| Wash Basins: | - |
| Heads: | - |
| Electric Heads: | - |
Pick Up Locations
| | |
| --- | --- |
| Pref. Pick-up: | Nassau |
| Other Pick-up: | St. Martin |
---
Details
| | |
| --- | --- |
| Refit: | 2020 |
| Helipad: | No |
| Jacuzzi: | Yes |
| A/C: | Full |
Engine Details
-
Fuel Consumption:
830
Cruising Speed:
22
Max Speed:
30US Gall/Hr
Locations
| | |
| --- | --- |
| Winter Area: | Bahamas, Caribbean Leewards, Caribbean Windwards |
| Summer Area: | Bahamas, Caribbean Leewards, Caribbean Windwards |
---
Amenities
| | |
| --- | --- |
| Salon Tv/VCR: | Yes |
| Salon Stereo: | Yes |
| Sat Tv: | Satcom & cellular communications, VSAT, WiFi internet access |
| # of Videos: | - |
| # DVDs/Movies: | - |
| # CD's: | - |
| Camcorder: | - |
| Books: | - |
| Board Games: | - |
| Sun Awning: | - |
| Deck Shower: | - |
| Bimini: | - |
| Water Maker: | - |
| | |
| --- | --- |
| Special Diets: | Inq |
| Kosher: | Inq |
| BBQ: | - |
| # Dine In: | - |
| Minimum Age: | - |
| Generator: | - |
| Inverter: | - |
| Voltages: | - |
| Water Maker: | - |
| Water Cap: | - |
| Ice Maker: | - |
| Sailing Instructions: | - |
| Internet Access: | - |
| | |
| --- | --- |
| Gay Charters: | Inq |
| Nude: | Inq |
| Hairdryers: | - |
| # Port Hatches: | - |
| Guests Smokes: | - |
| Crew Smokes: | Inq |
| Pets Aboard: | Yes |
| Pet Type: | small dogs allowed with deposit |
| Guest Pets: | - |
| Children Ok: | - |
| Hammock: | - |
| Windscoops: | - |
---
Water Sports
| | |
| --- | --- |
| Dinghy size: | 6.4m/21' Castoldi jet tender |
| Dinghy hp: | - |
| Dinghy # pax: | - |
| Water Skis Adult: | Yes |
| Water Skis Kids: | - |
| Jet Skis: | 2 |
| Wave Runners: | - |
| Kneeboard: | Yes |
| Windsurfer: | - |
| Snorkel Gear: | Yes |
| Tube: | - |
| | |
| --- | --- |
| Scurfer: | - |
| Wake Board: | Yes |
| Kayaks 1 Pax: | Yes |
| Kayaks (2 Pax): | - |
| Floating Mats: | - |
| Swim Platform: | - |
| Boarding Ladder (Loc/Type): | - |
| Sailing Dinghy: | - |
| Beach Games: | - |
| Fishing Gear: | - |
| Gear Type: | - |
| Rods: | - |
TOM TANNER | Captain | American
Born and raised in Newport, Rhode Island, Captain Thomas Tanner's experience on the water started
almost immediately. Raised sailing on his father's sailboat, by six years old Tom spent his summers
sailing on his own optimist dinghy out of Ida Lewis Yacht Club. At fifteen years old he found himself
in his first job as a deckhand on a 101' wooden schooner where his love of cruising
began. After participating in the Tall Ships and OpSail2000 events Tom returned to Newport, RI to
his roots of competitive sailboat racing. He was hooked, and soon travelled all over the Atlantic
Ocean and Mediterranean competing in world class ocean and maxi racing circuits with wins in
notable races such as The Heineken Regatta, Marblehead to Halifax, Newport to Bermuda Race as
well as both the 12 meter North American & World championships. It was during this time that he
began his second career at sea with formal training and climbed the ranks to Master and Unlimited
Dynamic Positioning officer on a 300' subsea commercial vessel. However, soon the passion of
yachting and the need to travel called once again. Tom looks forward to providing you with an
exclusive and exciting holiday on board DB9.

PATRICIO LOPEZ BENAVIDES | Chief Officer | Mexican
Patricio or Pat as the crew refer to him brings a diverse background in yachting and hospitality. He
has both motor yacht and sailing experience with qualifications that include Chief Mate 3000 GT.
An enthusiast of boating and an avid PADI certified Instructor, Patricio enjoys every moment he is at
sea. During his time back home in Mexico, Patricio spends his afternoons playing golf and enjoying
a good meal with family and friends.
Back onboard, his good-natured spirit and can-do attitude put guests at ease while his
professionalism and ability to command a variety of situations instill confidence. Highly
knowledgeable about the best seaside sights throughout the Med and the Caribbean, Patricio will
thrill guests by whisking them off to the most picturesque hidden coves and enticing attractions
during their five-star getaway onboard DB9.

AUBREY CASTLE-SANDERS | Chief Stewardess | American
Aubrey was born in San Diego, California and raised in Honolulu, Hawaii. She grew up doing
competitive gymnastics and later participated in cheerleading. She earned her bachelor's degree in
psychology from the University of Hawaii. After growing up on the beach, it was a natural
progression to work on the water. She came into yachting a bit later in life than most but has made
up for lost time, having cruised the waters of the eastern and western Med, the Bahamas, the
Caribbean, and the South Pacific in the past six years since she began. Her background in fitness
instruction and hospitality made her transition into yachting seamless.
The thing Aubrey loves most about working on charter yachts is meeting new people and finding
new ways to surprise them. She brings a finely tuned ability to anticipate the needs of her guests
and a great sense of humour. When she isn't working you can find Aubrey baking, cooking, doing
arts and crafts, or trying out the newest fitness crazes. Aubrey has previously worked on M/Y
Inception, M/Y Ocean Club, M/Y Mirage and M/Y Dream. She speaks English and is always keen to
practice French.

NADIA DAMSELL | Second Stewardess | South African
Nadia Damsell was born and raised seaside in sunny Cape Town, South Africa. At age 17 she
stepped into the hospitality industry working as a waitress during her last year at school, where she
saved up to book a one-way ticket out of South Africa and into her new life. After working as a
live-in nanny for a few months in a small town in the UK, the ocean called her back and she joined
the yachting industry in the Mediterranean, now almost 4 years ago. While traveling and gaining
experience in the yachting industry, Nadia's interests also lie in beauty & aesthetics. Nadia is
dedicated to self-improvement and has throughout the years completed many beauty & yachting
related courses during her time off. Nadia loves themed nights, table decorating & making cocktails!
She is bubbly, friendly and committed to provide a memorable experience for our guests onboard
DB9.

CLARA HANSEN | Third Stewardess | Swedish
Clara was born in a small town in Sweden where she graduated and later worked as a photographer,
nanny and a barista at a local café However, her love for the ocean and the craving for a new and
exciting challenge got her to leave it all behind and pursue a career in yachting in 2022. In her free
time, you will find her traveling, playing football and hiking. Clara has been able to merge her love
for the ocean, traveling and meeting new people into her perfect role as a stewardess where she is
excited and committed to provide an outstanding experience for our guests.

BHES BAHADUR | Fourth Steward | Nepali
Mr. Bhes as his fellow crew love to call him has over fifteen years of loyal service on board yachts,
fearing no task set upon him, whether its interior duties or helping out on desk, nothing is
unattainable. Bhes is loving of the career that he has chosen and always strives for the best results
possible. Mr. Bhes enjoys motivating his fellow crew members always enjoys having crew dinners
out with his crew members whenever time off is on the books. When not onboard, he travels back to
Nepal to spend time with his family and always returns back with his signature smile. Mr. Bhes will
ensure that every day is a positive one onboard DB9.

FILIPPA AHLBERG |Deckhand | Swedish
Filippa grew up in Stockholm, Sweden, a city built on numerous islands and lakes around every
corner. Before joining yachting, Filippa was in the fitness industry studying personal training and
traveling around Europe as a professional dancer. When not in shorts and sunglasses, Filippa enjoys
skiing and a good hike.
Her desire to work surrounded by the ocean and in a fast-paced environment led her to start a
yachting career this year. She has gained a lot of new skills onboard and is ready to give you an
experience not forgotten onboard MY DB9.

ANTON USKOV | Chief Engineer | Crimean
Anton was born in Sevastopol on the coast of the Black Sea. Here, his love for the sea and interest
in technology combined with his degree in marine engineering at university. He gained a wealth of
engineering experience in the commercial shipping sector before transitioning into the yachting
industry. At home and during his spare time, Anton enjoys diving, cycling, and traveling. Anton
endeavours to make your time onboard DB9 a safe and smooth experience.

JULIO AUGUST | Second Engineer | Mexican
Julio was born in Mexico City and after finishing his basic studies he joined the Mexican Merchant
Maritime Navy at the young age of 18 years old, after four years there he gained a degree as an
Engineering Cadet. Julio then started his career as an Engineering watchkeeping officer onboard
Roll off and Bulk Carriers Vessels. Julio then made the jump to yachting and is now happy to bring
experience and a positive attitude onboard DB9.

MICHAEL MARTIN | Chef | Australian
Michael is an established Head Chef with over 25 years of experience with a passion for
Mediterranean and Asian Cuisine. His path to culinary success started at Stephanie's, one of the
most famous restaurants in Melbourne, Australia. He then moved to London to broaden my
culinary horizons under the chef Ruth Rogers where Jamie Oliver started his career too. He was
creating signature dishes in many fine-dining restaurants before making a career with in the
professional yachting industry, He has tailored menus for many high-end clients on charter and
private yachts to delight the most discerning of palates, while cruising the world oceans. I also have
spent some time in the luxury service industry as a 5 -star Butler for Prince Harry and John Cleese.


(15 December -30 April)
Bahamas, Caribbean Leewards, Caribbean Windwards
(1 May - 14 December)
Bahamas, Caribbean Leewards, Caribbean Windwards
| | | | | | | | | | | | | | | | | | | | | | | | | | | | | | | | |
| --- | --- | --- | --- | --- | --- | --- | --- | --- | --- | --- | --- | --- | --- | --- | --- | --- | --- | --- | --- | --- | --- | --- | --- | --- | --- | --- | --- | --- | --- | --- | --- |
| Mar 2023 | 1 | 2 | 3 | 4 | 5 | 6 | 7 | 8 | 9 | 10 | 11 | 12 | 13 | 14 | 15 | 16 | 17 | 18 | 19 | 20 | 21 | 22 | 23 | 24 | 25 | 26 | 27 | 28 | 29 | 30 | 31 |
| Apr 2023 | 1 | 2 | 3 | 4 | 5 | 6 | 7 | 8 | 9 | 10 | 11 | 12 | 13 | 14 | 15 | 16 | 17 | 18 | 19 | 20 | 21 | 22 | 23 | 24 | 25 | 26 | 27 | 28 | 29 | 30 | |
| May 2023 | 1 | 2 | 3 | 4 | 5 | 6 | 7 | 8 | 9 | 10 | 11 | 12 | 13 | 14 | 15 | 16 | 17 | 18 | 19 | 20 | 21 | 22 | 23 | 24 | 25 | 26 | 27 | 28 | 29 | 30 | 31 |
| Jun 2023 | 1 | 2 | 3 | 4 | 5 | 6 | 7 | 8 | 9 | 10 | 11 | 12 | 13 | 14 | 15 | 16 | 17 | 18 | 19 | 20 | 21 | 22 | 23 | 24 | 25 | 26 | 27 | 28 | 29 | 30 | |
| Jul 2023 | 1 | 2 | 3 | 4 | 5 | 6 | 7 | 8 | 9 | 10 | 11 | 12 | 13 | 14 | 15 | 16 | 17 | 18 | 19 | 20 | 21 | 22 | 23 | 24 | 25 | 26 | 27 | 28 | 29 | 30 | 31 |
| Aug 2023 | 1 | 2 | 3 | 4 | 5 | 6 | 7 | 8 | 9 | 10 | 11 | 12 | 13 | 14 | 15 | 16 | 17 | 18 | 19 | 20 | 21 | 22 | 23 | 24 | 25 | 26 | 27 | 28 | 29 | 30 | 31 |
| Sep 2023 | 1 | 2 | 3 | 4 | 5 | 6 | 7 | 8 | 9 | 10 | 11 | 12 | 13 | 14 | 15 | 16 | 17 | 18 | 19 | 20 | 21 | 22 | 23 | 24 | 25 | 26 | 27 | 28 | 29 | 30 | |
| Oct 2023 | 1 | 2 | 3 | 4 | 5 | 6 | 7 | 8 | 9 | 10 | 11 | 12 | 13 | 14 | 15 | 16 | 17 | 18 | 19 | 20 | 21 | 22 | 23 | 24 | 25 | 26 | 27 | 28 | 29 | 30 | 31 |
| Nov 2023 | 1 | 2 | 3 | 4 | 5 | 6 | 7 | 8 | 9 | 10 | 11 | 12 | 13 | 14 | 15 | 16 | 17 | 18 | 19 | 20 | 21 | 22 | 23 | 24 | 25 | 26 | 27 | 28 | 29 | 30 | |
| Dec 2023 | 1 | 2 | 3 | 4 | 5 | 6 | 7 | 8 | 9 | 10 | 11 | 12 | 13 | 14 | 15 | 16 | 17 | 18 | 19 | 20 | 21 | 22 | 23 | 24 | 25 | 26 | 27 | 28 | 29 | 30 | 31 |
| Jan 2024 | 1 | 2 | 3 | 4 | 5 | 6 | 7 | 8 | 9 | 10 | 11 | 12 | 13 | 14 | 15 | 16 | 17 | 18 | 19 | 20 | 21 | 22 | 23 | 24 | 25 | 26 | 27 | 28 | 29 | 30 | 31 |
| Feb 2024 | 1 | 2 | 3 | 4 | 5 | 6 | 7 | 8 | 9 | 10 | 11 | 12 | 13 | 14 | 15 | 16 | 17 | 18 | 19 | 20 | 21 | 22 | 23 | 24 | 25 | 26 | 27 | 28 | 29 | | |
---